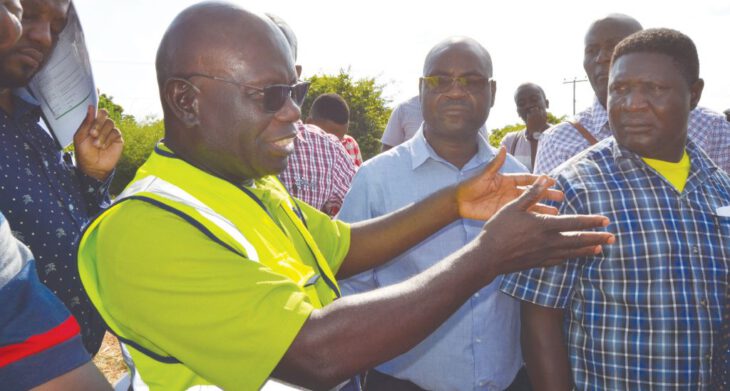 Bridging roads financing gaps – The Times Group Malawi
Karen Msiska, a 41-year-old resident of Lilongwe, covers a distance of over 474 kilometres to travel to Chanjati Village in the area of Traditional Authority (T/A) Mwalweni in Rumphi to visit his kins.
Msiska covers the same distance to the Capital City where he is working for one of the public institutions.
However, his journey to the village is always gruelling, requiring strenuous effort, difficult and tiring because of the poor road network.
"The road to my village is riddled by and overburdened with potholes right from the entrance to my house gate in Lilongwe. And it's never easy at all to drive on a broken road because it is time-consuming and requiring a lot of effort and energy as you struggle to stay in control of your vehicle on the potholed road," he explains.
The poor road infrastructure has been a cause of concern to many Malawians, especially motorists who believe it is contributing to the road accidents that are claiming innocent lives across the country as well as rising cost of vehicle maintenance.
In some parts of the country, motorists have to wait for one another to pass before they can drive to their respective directions while in others; the poor road networks have disrupted service delivery.
The government, through its Malawi Growth and Development Strategy (MGDS III), recognises that infrastructure development is undoubtedly critical for a country's long-term economic growth and competitiveness as it impacts economic activities by increasing productivity, facilitating trade, and promoting innovation.
However, economic growth as well as broader development goals in Malawi has largely been hindered by a shortage of roads, mass rapid transit systems, telecommunications, power plants, water and sanitation and other basic infrastructure.
The Malawi Government has largely relied on support from its development partners and revenues collected from the fuel levy to construct new roads as well as maintaining the old ones.
The Roads Fund Administration (RFA) chief executive officer, Stewart Malata, says over 85 per cent of the roads fund revenues the RFA uses to finance road maintenance come from fuel levy while the rest make up the 15 per cent.
Adding to this challenge, private sector participation in infrastructure investment has generally been non-existent in Malawi.
He stresses that over reliance on fuel levy is a big risk that Malawi needs to address.
He cites two incidences which affected the roads fund revenue from fuel levy.
During the fuel crisis in the year 2004/05 as well as delays and low remittances of fuel levy by the fuel levy collecting entity.
He further states that understanding the lack of participation in private investment and how countries can encourage more private sector participation is important in achieving sustainable infrastructure development.
According to Malata, the most successful way of engaging the private sector in financing in road infrastructure development is the introduction of toll gates.
Toll gates are steel structures put in highways and major roads for which a fee or toll is paid to pass.
"We need to collect more revenues for the purposes of maintaining the roads in Malawi," he says.
Malata says all over the world, toll gates have proven to be effective means of raising revenues for road maintenance and construction.
The government embarked on road tolling project in 2016 in which the Public Private Partnership Commission (PPPC) engaged Smec Holdings Limited, an Australian consulting firm, to conduct a feasibility study on the viability of tolling as one model of raising funds for public roads maintenance, rehabilitation and repairs.
The study found that traffic volumes on the country's roads were lower than 3, 000 vehicles a day, which is the recommended level for tolling under a public private partnership model. The model would not be economical hence shelving the plans.
Ministry of Transport and Public Infrastructure projects a sharp rise in traffic volumes.
Malata says RFA expects that toll gates will reduce reliance on fuel levy by 60 per cent three years after the project roll out.
Recognising this potential, members of the Parliamentary Committee on Transport and Public Infrastructure recently visited the site where the initial toll plaza will be installed at Chingeni in Ntcheu to appreciate the preparations RFA is undertaking to roll out the project.
The committee's chairperson, Robert Mwina, said toll gates can potentially reduce government's burden on public finance.
"Of course, we initially had problems with the introduction of the toll gates because we felt this would overburden motorists who are already paying fuel levies," he said.
Rumphi West parliamentarian, Yona Adadawiza, who is also a member of the Committee, welcomed the project as it has multiple benefits.
The African Road Maintenance Funds Association Southern Africa focal group chief, Engineer Wallece Mumba, says road tolling is one of the sustainable means of financing road maintenance, rehabilitation and construction in any country, which help to improve regional integration.
Mumba says countries need to financial their own road networks although the financing part is always critical and crucial and the better way of doing it is install toll gates.
"Installation of toll gates would provide Malawi another avenue for generating from fund to run road administration fund apart from depending solely on fuel levy and road taxes," he narrates.
He adds that Zambia realised that demands for road maintenance in the country was very high, yet there were limited options for funds generation and they considered the introduction of road tolling as a means.
Let us know what you think of this update and remember to add us on our facebook and follow us on our twitter. Make sure to come back daily for more Malawi business news updates.
Quick Links: Malawi Radio Station Frequencies | Where To Eat In Malawi | Download Business eBooks | Ten Signs You Are An Entrepreneur | What is a Managing Director?
Today's top business story: Top Commercial Banks In Malawi
Source Link
Latest posts by Vanessa Banda
(see all)