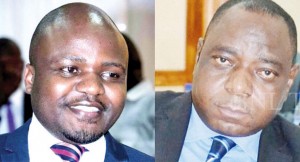 Broker unhappy with performance of bonds
FBH Stockbrokers says Malawi government bonds have performed poorly on the Malawi Stock Exchange where there has been no trading since initial investors bought them on the day of listing on December 22, 2014.
The government through the Reserve Bank of Malawi (RBM) listed K109 billion in bonds on the local bourse to create a platform for secondary market trading and prepare the market for more listings.
FDH Stockbrokers manager, Nelson Mkwende, said the bonds have performed poorly on the market but RBM says it is still too early to present a meaningful assessment on the bond's performance on the market.
According to Mkwende, however, the market has not registered any trade since the initial buyers during the listing.
He said the timing and approach may have been misplaced.
"The listing was done at a time when interest rates were high and there is an inverse relationship between high interest rates and bond prices," said Mkwende.
He said investors who bought the bonds are looking for a return but that the problem is that they bought these bonds when interest rates were lower than what they are right now.
"This means that the discounting prices that they anticipated then were higher than what they can get right now if they decide to discount when the interest rates are high," he said.
Mkwende also said that very few investors will be willing to discount their bonds because of the issue of pricing, against the respective coupon rates of the bonds that they are carrying on their books.
"In short, it will take some time before we see activity on the bond market," said Mkwende.
He said the key determining factor is for the interest rates to come down so that it starts making sense for the holders to discount and seek other investment avenues for their money.
RBM spokesperson, Mbane Ngwira, said the initial buyers are still holding on to the bonds as they do not want to make losses at this time when market conditions are not in their favour.
"The listed amounts may not have been large enough to induce trading," he said.
He said, however, the market now seems to be ready for more listings which maybe meaningful for trading.
"Since the market is ready, more bonds are expected to be listed which may entice the other holders to sell their bonds," he said.
Malawi Stock Exchange chief executive officer, John Kamanga, agreed that the listing of more bonds on the stock market by the government and private companies would increase the scope of instruments and ignite trading on the market.
(Visited 10 times, 10 visits today)
Latest posts by Vanessa Banda
(see all)