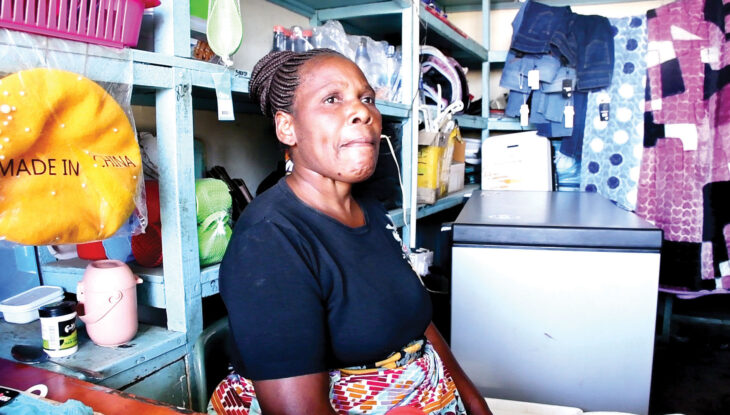 Bumpy, slippery terrain for MSMEs – The Times Group
By Deborah Madeya
She sits on a plastic chair in her grocery shop, with her chin buried in her left palm, apparently looking puzzled.
A few seconds later, she tilts her ultimate attention to the task of packaging water, a business she also tries her hand at.
Her core is cross-border trade, where she imports clothes and other items from South Africa and Tanzania for sale in her relatively tiny container shop at Ndirande Market, Blantyre.
On one of the shelves in the shop is an old and torn hardcover; a book of records of some sort. Her name, Iness Mzimba Nkhalamba, is scribbled on the cover.
She has been plying her trade since 2001.
And on several attempts, she secured loans from some local financial institutions to grow her business. But her experiences remain a thing to forget.
"I decided to get a loan from one of the macro-finance institutions in 2009 to expand my business. But the interest rates were too high and unsustainable. All my profits were going straight to servicing loans.
"I changed and took another loan from another institution, but the same thing happened. The interest was just too high; it was just a matter of survival," Nkhalamba says.
She is a reflection of the plight that small and medium enterprises (SMEs) face in the country.
They are in numbers, about 1.6 million according to the 2019 Malawi FinScope Micro, Small, Medium Enterprises (MSMEs) survey, and employing about 1.8 million people.
It is estimated that MSMEs contribute about 40 percent to gross domestic product and 24 percent of employment and about 21 percent of the country's adult population derives their livelihood from the sector.
But lack of access to finance, access to land, high business operating costs and low production capacities are some of the major challenges SMEs continue facing.
Chris Mulilani, a salesman at one of the shops that sell men's shoes in Blantyre, says he had a business idea which died before it was hatched due to lack of seed capital.
"Since there is a need for collateral for one to get a loan, I do not have anything I could offer. As such, my wish can never be fulfilled,"Mulilani said.
Shakira Millie, who is running an electronics business in Blantyre feels that running a business is not for the faint-hearted as the operating environment is ever volatile.
She says while businesses like that of hers play an important role in developing countries like Malawi, with empirical evidence showing MSMEs contributing substantially to the country's economy, they do not receive the required support.
"I ventured into the electronics business last year in September but, so far, we have been having challenges with items we import. When ordering equipment, we sometimes fail to get forex," Millie says.
SMEs Chamber is an umbrella body for small business operators and says the environment remains unconducive for SMEs.
CHIUTSI—SMEs were still recovering
from the impacts of Covid
In an interview, SMEs Chamber Executive Director James Chiutsi pointed at the May 2022 currency devaluation, forex and fuel scarcity and effects of Covid pandemic and, lately, Cyclone Freddy among bottlenecks to doing business in the country.
"SMEs were still recovering from the impacts of Covid when Cyclone Freddy wiped away the little gains the sector started making. Devaluation affected those in the imports and exports business because the cost of importing was just high," Chiutsi says.
Minister of Trade and Industry Simplix Chithyola Banda recently told Times Television that through initiatives like the Financial Inclusion and Entrepreneurship Scaling Project (FInES) being implemented by the Reserve Bank of Malawi, the government has lifted the burden SMEs face when accessing loans.
"My ministry and the Ministry of Finance in correlation with the Reserve Bank are managing the FInES project that is providing access to financing for SMEs at a low interest rate compared to commercial lending rates.
"Those that have access have increased production. This is going along with the much larger mega farms concept; we will have agricultural productivity enhanced," Chithyola Banda says.
From the look of things, apart from access to capital, many SMEs lack necessary skills to remain competitive.
It appears a foregone conclusion that it would take a fortune for them to be accorded equal space and opportunity on the landscape.
Let us know what you think of this article and remember to add us on our facebook and follow us on our twitter. Come back daily for more Malawi business news.
Quick Links: Download Business eBooks | Ten Signs You Are An Entrepreneur | What is a Managing Director?
Latest posts by Vanessa Banda
(see all)