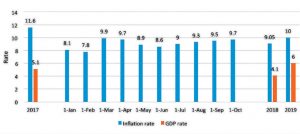 Business confidence inches up in 2018
By Taonga Sabola:
A latest Business Confidence Index (BCI) by the Malawi Confederation of Chambers of Commerce and Industry (MCCCI) has revealed that industry players' belief in the economy slightly inched up in 2018.
This was despite the local economy facing continued challenges such as frequent power blackouts and high cost of capital in the year.
The BCI in 2018 was calculated at 69.5 percent against 67 percent recorded in 2017. This shows that business confidence improved by 2.5 percentage points in 2018 compared to 2017.
The BCI is a qualitative index of scores of enterprises' assessment of current as well as future expectations of business climate indicators.
The indicators include current performance, expected business performance, employment outlook and investment outlook.
The expected business performance and outlook are used to estimate business confidence in the economy.
The BCI helps to understand the overview of the state of the economy.
Despite facing a number of challenges in 2018, the local economy was relatively stable during the year.
Among other success stories, the kwacha exchange rate was relatively stable against the dollar, registering marginal depreciation in the last two months of the year.
Inflation also remained within the single digit band for the better part of the year, before crawling back to double digits in November when it hit 10.1 percent.
In 2018, the chamber said there was a notable improvement in capacity ultilisation by firms.
Capacity utilisation measures firms' total possible actual output as a percentage of total potential output in a given time.
"As compared with the previous years, in 2018 a percentage of those producing above 76 percent has significantly increased. However, the majority still [Sic] remains in the range of 50-75 percent for 2018 and for the past two years.

"Another interesting outcome is that the proportion of those producing below 50 percent has tremendously reduced as compared to the previous years," MCCCI says.
Latest posts by Vanessa Banda
(see all)