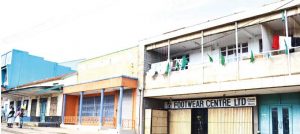 Business confidence remains low | The Times Group
The World Bank says the level of confidence among businesses in the country remains subdued.
The development comes at a time the operating environment continues to be riddled by blackouts and corruption.
The power outages have resulted in bloated operating costs for enterprises as firms resort to expensive diesel generators just to keep going.
In its Malawi Economic Monitor released last Thursday, World Bank says, though business confidence remains low, there have been signs of hope on a number of fronts.
The bank says the fall in the inflation rate and the subsequent reduction in the policy rate and commercial bank lending rates has given some hope to the business community that the challenges related to accessing finance could be easing.
"Exponential growth in mobile-based money transfers and in the value of remittances coming into Malawi using this technology could allow for increased financial inclusion and increases in the disposable incomes of Malawi's unbanked population.
"Furthermore, large-scale investment in the Nacala railway line and improvements to the Nacala port present an opportunity to transform trade and transport for Malawian exporters," the World Bank says in the report.
It adds that a number of key reforms implemented recently could help in improve the business environment.
"The new Companies and Insolvency Acts were operationalised in March 2017. The implementation of the new Companies Act has simplified the process of registering companies and has introduced wide-ranging protection of the rights of minority investors, which were previously non-existent. The implementation of the new Insolvency Act facilitates company reorganisation, whereas, previously, only winding up was possible.
"It has also introduced protection for secured creditors inside and outside the insolvency processes. In addition, the government has demonstrated a commitment to reviewing a number of laws that depress business confidence, such as the Control of Goods Act and the Seed Act, in an effort to improve the environment in which domestic firms operate, especially in the agribusiness sector," part of the report reads.
The bank says with a growth recovery now underway and the food security crisis over, there is an opportunity for Capital Hill to refocus efforts back to medium-term structural reforms, which would reduce the risks of future weather shocks having a devastating effect.
It says at this point, policy makers have the space to introduce and advance key structural reforms that will boost Malawi's economy in the medium term.
"It is vital to maintain the momentum for the implementation of a range of critical reforms intended to break the cycle of vulnerability. Malawi will only record significantly improved medium-term economic performance if it develops higher levels of resilience to both internal and external shocks.
(Visited 18 times, 18 visits today)
Latest posts by Vanessa Banda
(see all)