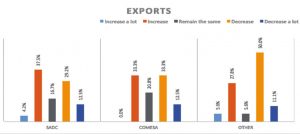 Businesses focus on regional markets
By Taonga Sabola:
A study by the Malawi Confederation of Chambers of Commerce and Industry (MCCCI) has revealed that local businesses are mostly focusing their exports on the Southern African Development Community (Sadc) and the Common Market for Eastern and Southern Africa (Comesa).
According to the 2018 Malawi Business Climate Survey (MBCS), businesses indicated that both Sadc and Comesa remain great opportunities for businesses compared to regions beyond.
"This shows that businesses are now focusing more on the regional markets. It is possible that economic developments outside the two regions are affecting the business confidence in terms of their export revenue prospects," reads the MBCS in part.
The survey further shows that prospects are high for increased imports from the Sadc region than from Comesa and other regions.
"The nation continues to import more from its trading partners which are within the Sadc region; that is, the nation is not producing for its own consumption," reads the MBCS.
According to the Reserve Bank of Malawi's third quarter economic report, Malawi's trade balance worsened in the third quarter (Q3) of 2018 as imports growth outpaced exports.
Malawi's trade balance worsened to minus $525.1 million from a deficit of $419.6 million in Q2.
The position was higher than a deficit of $372.3 million recorded in Q3 of 2017
Latest posts by Vanessa Banda
(see all)