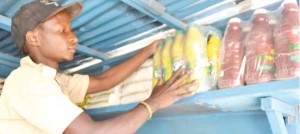 Buy Malawian slowly fading
Six months after the government launched the Buy Malawi Strategy to encourage the use and consumption of locally produced goods and services, concerns are beginning to surface that the strategy is fast losing momentum with no clear champion identified by government to sustain the campaign.
Persistent power outages and water shortages are also raising concerns over availability of Malawian products on the market as reduced power and water supply challenges have disrupted production processes of many industries.
Lately, foreign products have flooded the market raising questions whether the country is also pushing forward its strategy to promote local products on the domestic market as well other markets outside Malawi. The foreign products often offer cheap alternatives to products made on our own soils.
Analysts are now faulting authorities for not giving much support to the initiative and failing to work on strategies to improve the business environment which is threatening the competitiveness of Malawian products.
Prevailing economic challenges, characterised by high inflation and interest rates, has left many people with reduced buying power forcing them to opt for cheaper products, most of which are manufactured abroad.
Entrepreneur and former President of the Malawi Confederation of Chambers of Commerce and Industry, Newton Kambala, said in the absence of interventions to improve the availability of essential factors of production such as electricity and water, it will be difficult for Malawi to sustain supply of its products on the highly competitive market.
But he said while Malawians may be forced to buy foreign products because they are cheaper and available, the implications to the economy in the long term can be devastating.
He said industry needs quick interventions to reverse disruption of productions processes following persistent power outages for Malawi to sustain its campaign to buy local.
"Every product has a distribution system and in the product supply chain, people are happier to deal with someone who can keep on supplying them but if your products are not regularly on the market, people are not eager to support you," he said.
Professor of Economics at Chancellor College, a constituent college of the University of Malawi, Ben Kalua, agreed with Kambala. He said constraints prevailing in the Malawi economy have affected the effectiveness of the strategy and appeal of products made in Malawi.
According to Kalua, energy has now become a binding constraint affecting production processes which are key to availability of Malawian products on the domestic as well as international markets.
'The environment makes local manufacturers not to be competitive. For the strategy to work, first Malawi needs to tackle its competitiveness," he said.
People's Chief Executive Officer, who also serves as Chaiman on the board of the Comesa Competition Commission, Mathews Chikankheni, said it is not clear who is championing the strategy. He said the campaign needed to be sustained for it to achieve long-term success.
"There is a blackout on publicity. Such a strategy needed to be well orchestrated with a clear champion pushing forward its agenda. Malawians like imported things, therefore, necessitating constant reminders to buy local products."
The Competition and Fair Trading Commission (CFTC) earlier confirmed being aware that some goods and services imported into the country may have anti-competitive effects on locally produced goods.
The commission's Executive Director, Wezi Malonda, said it is the responsibility of the CFTC to investigate and deal with any incidences of anti-competitive conducts whenever they arise.
"At the Tripartite Free Trade Area (TFTA) level there is also an acknowledgement that the benefits of the TFTA may be negatively affected by firms conducting themselves
in anti-competitive manner. This is why the Declaration adopted at the launch of the TFTA singles out competition as one of the areas that should be addressed in the TFTA negotiations.
But she said the issue of safeguarding the domestic industry from imported goods and services does not fall under the regulatory scope of the CFTA.
"It is the subject of another policy framework which is beyond the scope of responsibility of the CFTC," Malonda concluded.
Some local producers are worried that they may not be able to sustain their businesses in the face of an influx of foreign products on the domestic market.
While acknowledging that the development is an inevitable consequence of globalisation and free trade agreements that Malawi has signed, the local companies have expressed concern that the state of the Malawi economy and the volatility of the kwacha may put them at a disadvantage to profit from the international market.
In an earlier interview, Universal Industries Group Food Technologist, Jean Pankuku, observed that products from regional blocks as the Far East have slowly eaten up 20 percent of the market share thereby threatening local industries which have had to operate at unacceptable capital gearing to compete with cheap imports.
Pankuku further said that there is no effective government policy in place to promote Malawian industries, yet the Malawian producers face stiff regulatory standards when they try to export their products to other countries including regional blocks.
"Our company has over the years established regular exports of biscuits and fine cassava starch to Zimbabwe. It was this time two years ago when our exports into Zimbabwe suddenly required (without any notice) certificate from Ministry of Health and Welfare which had to verify that goods exported are manufactured in Malawi and are to an acceptable spec.
"To have the certificate validated, our clients in Zimbabwe had to bear full cost of travel, accommodation expenses and daily allowances for two inspectors to visit our premises from Zimbabwe for over ten days. By the time the certificates were issued for appropriate products, more than two months had elapsed after the inspection during which time, there was no export and as a result, both parties had to suffer loss of business."
But government is optimistic that the strategy will play a key role in spurring investment and local manufacturing.
(Visited 1 times, 1 visits today)
Latest posts by Vanessa Banda
(see all)