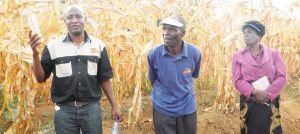 Seed manufacturers have asked government to move fast to amend the Seed Act as one way of controlling the influx of fake seeds on the market.
Some reports indicate that over 200 metric tonnes of seeds currently on the market are counterfeits.
The farmers said lack of guiding policies and a body to regulate the sector have contributed to the development.
Monsanto Malawi Marketing Manager for the south Dennis Kachikho emphasised that the magnitude of the problem has forced the company to embark on civic education initiatives to educate farmers on the features to look for when buying seed.
"From last year we have started ordering our packaging from South Africa and that packaging is having a lot of features that we believe the fraudsters won't be able to copy," Kachikho said.
He went on to say that the company has launched an insurance project where farmers will be checking with agro dealers the authenticity of the seeds they are buying at the point of purchase.
"When a farmer buys our seeds the agro dealer will record all the details that are on the packaging if the seed is fake it will show in our system that the particular packaging is not ours" Kachikho said.
In a separate interview, Chief Executive Officer of Peacock Seeds, Felix Jumbe said there is need for the government to introduce a commission that would look into seed manufacturing and sales.
He pointed out that Malawi is sitting on a time bomb if such fraudsters are not dealt with.
"Malawi relies heavily on agriculture and if we do not deal with this problem, we will wake up one day to a low harvest because farmers did not grow the right seeds" Jumbe said.
(Visited 10 times, 10 visits today)
Latest posts by Vanessa Banda
(see all)