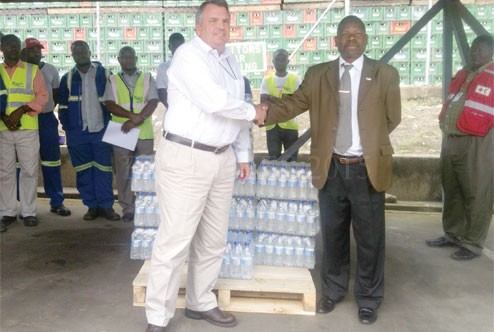 Carlsberg water to cholera hit camps
Carlsberg water to cholera hit camps
Carlsberg Malawi over the weekend donated 24,000 litres of purified water to flood victims in camps affected by cholera in Nsanje.
The donation was sourced through the company's Coca-Cola partners of Zimbabwe. This is the second donation Carlsberg made towards flood relief efforts.
Carlsberg Malawi managing director, Gavin Brown also pledged to provide logistical support to Malawi Red Cross Society (MRCS), entrusted to manage the support.
"In light of reported cholera outbreak in Nsanje, we are hopeful that this donation will make a difference to those affected," said Brown.
Red Cross board member, Stuart Limula, received the donation on behalf of the organisation.
While commending Carlsberg, Limula said the problem remain pathetic in areas most hit by the cholera.
"Water, sanitation and hygiene are critical areas affecting people in flood affected areas. This is a component in the health and care aspect," he said.
Late last month, Carlsberg Malawi donated over 220, 000 litres of water valued at K80 million to flood victims.
Latest posts by Vanessa Banda
(see all)