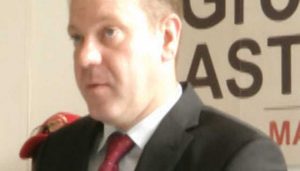 Castel officially takes over Carlsberg
Castel Group has officially registered its business in the country and has since changed its business name from Carlsberg Malawi to Castel Malawi Limited.
Addressing the media on Tuesday in Blantyre, Castel Managing Director, Olivier Renson, said the change of name signifies the company's commitment to stay and grow its business in Malawi.
Renson said, for the one year the company has been in the country, it has introduced new products and new ways of doing things.
"In 2017 alone, we have invested $22 million into the business by introducing a new range of products. We have increased our product stock keeping units from 32 to 62.
"We hope that this level of investment sends a message to Malawi, at large, of our intention to stay the biggest beverage producer in the country," he said.
Renson said Castel has introduced on the market a new sparkling drink called World Cola, XXL energy drink and Compal juice.
"We have also expanded into another new category with the launch of Castel wine in mid – 2017 and we also expect to launch two new beers in the next four months," Renson said, adding, a new malt drink, specifically targeting women, will be launched soon.
He further said, in the next few months, the company will start rebranding so that the public becomes familiar with the new name and corporate look.
On August 10 2016, Press Corporation Limited announced that Carlsberg Breweries of Copenhagen, Denmark, had sold its entire shareholding in Carlsberg Malawi Limited to the Castel Group.
The decision by Carlsberg Breweries to sell their shareholding was in line with the focus of their current strategy to deliver value from its strong positions in Western Europe, Eastern Europe and Asia, but not to run breweries in Africa.
Latest posts by Vanessa Banda
(see all)