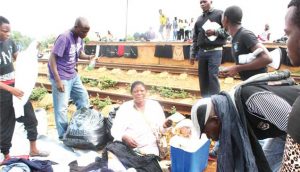 Cear intensifies safety awareness campaigns
In a quest to do away with increasing cases of accidents involving cargo trains and communities along the Mchinji-Mkaya rail line, Central East African Railways (Cear) has embarked on sensitisation campaigns to raise awareness on the dangers of encroaching on rail lines.
It has transpired that communities in Mchinji have transformed one of the train stations at Kamwendo into a market place, which is flooded with vendors and buyers every Sunday, posing a threat to the people.
It has also been revealed that school children whose schools are near the rail line are fond of throwing stones at passing trains while some jump on the wagons when trains reduce speed and jump off when it starts to accelerate.
Cear has described such tendencies as risky, stressing that trains take time to be controlled to stop.
According to the company's Social and Community Relations Manager, Towera Ng'ambi, this year alone, nine accidents occurred on the line, claiming five lives and leaving the rest seriously injured.
"We value the safety of our employees as well as the communities. That is why we decided to engage them to prevent more accidents from happening," Ngambi said.
She said that one of the captains of the trains was nearly injured when a pupil threw a stone at a passing train.
Some of the communities that were engaged during the meetings said that the encroachment issue has been perpetuated by the dormancy of the rail line over the years.
One of the community members said that there was no need to avoid using a station that was abandoned long time ago.
The Mchinji–Mkaya line has in recent months become operational and is being used by cargo trains from Zambia into Malawi
(Visited 17 times, 17 visits today)
Latest posts by Vanessa Banda
(see all)