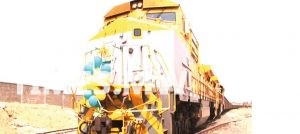 Cear starts passenger train to Mozambique
Passengers travelling from Malawi to Mozambique, vice versa, can now afford a smile as they will be able to travel by train on Thursdays every week.
The development follows a special arrangement that the country's railway operator, Central East African Railways (Cear), has made with its sister company in Mozambique, Corredor de Desenvolvimento do Norte (CDN).
Cear Communications and Corporate Image Manager, Chisomo Mwamadi, said last week that passenger coaches have been tested during the past three months.
Mwamadi, however, said this is not a direct route from Limbe to Mozambique as passengers have to find other means of transport for a distance of about one and half kilometres to connect from Nayuchi to Entre Lagos.
He said the passenger coaches will be departing Limbe for Balaka on Wednesday and will be leaving Balaka for Nayuchi on Thursday, when passengers will have to link up with another passenger coach belonging to CDN at Entre Lagos in Mozambique for the trip to Nampula.
Mwamadi added that it will be the same for those coming from Mozambique on Thursday, as they will have to disembark from CDN passenger coaches at Entre Lagos for Cear coaches at Nayuchi and arrive in Limbe by Friday.
"The demand for passenger train coaches from Malawi to Mozambique has always been there. As you know, that there is no passenger train that serves the Nacala corridor. So, the introduction of these coaches will go a long way in serving our customers better and achieving efficiency," said Mwamadi.
(Visited 98 times, 98 visits today)
Latest posts by Vanessa Banda
(see all)