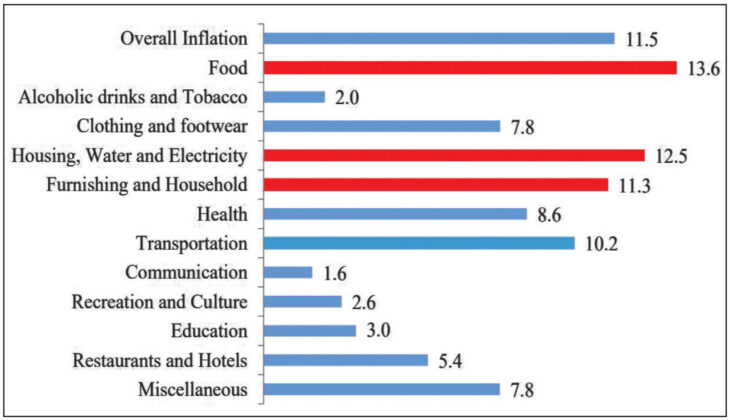 CfSC, Cama predict doom for vulnerable Malawians
UNSTABLE—Year-on-year inflation by division for December 2021 (Source: NSO)
John Kapito
The Consumers Association of Malawi (Cama) and Centre for Social Concern (CfSC) have expressed worry that rising inflation will continue to erode people's buying power.
The worry follows revelations that headline inflation increased to 11.5 percent in December from 11.1 percent in the preceding month.
A Consumer Price Index newsletter published by the National Statistical Office indicates that the increase in inflation is as a result of an increase in food inflation to 13.6 percent in December from 12.8 percent in November.
Cama Executive Director John Kapito said it would take time before Malawi arrests rising inflation and that little was being done by government to cushion citizens.
He said the government should move to address depreciation of the Kwacha, which will cushion inflation.
"The rising inflation is something that we have to live with unless our leaders are willing to implement some changes such as cutting on government expenditure and borrowing and increasing exports," Kapito said.
CfSC Economic Governance and Programmes Coordinator Bernard Mphepo said inflation would continue rising and consequently raise the cost of living.
"The increasing inflation is raising serious threats to the wellbeing of Malawians because the cost of living will rise. We therefore call upon the government to address the problem of inflation, especially in this lean period," Mphepo said.
President Lazarus Chakwera conceded last year that the economy was bleeding and needed urgent attention.
He launched a two-year economic recovery plan which, he believed, would address the problem of inflation, foreign exchange scarcity and other economic fundamentals to rebound the economy.
Justin Mkweu is a fast growing reporter who currently works with Times Group on the business desk.
He is however flexible as he also writes about current affairs and national issues.
Let us know what you think of this article and remember to add us on our facebook and follow us on our twitter. Come back daily for more Malawi business news.
Quick Links: Download Business eBooks | Ten Signs You Are An Entrepreneur | What is a Managing Director?
Latest posts by Vanessa Banda
(see all)