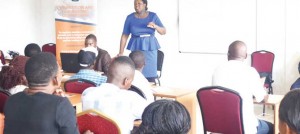 CFTC engages students on consumer protection
The Competition and Fair Trading Commission (CFTC) has asked universities and students to take interest in competition and consumer protection issues because of their relevance to the economy.
Speaking during a public lecturer at Exploits University and Pentecostal Life University in Lilongwe, CFTC Executive Director, Charlotte Wezi Malonda, said currently, there is no university in Malawi that is offering competition and consumer protection courses.
"Although competition and consumer protection issues are important to our lives, these are only partially covered when students are studying economics. It is for this reason that CFTC introduced a series of public lectures targeting both private and public universities to impart knowledge of competition and consumer protection law and encourage university to introduce new modules on the subject," Malonda said.
Malonda said the Competition and Fair Trading Act aims at encouraging competition in the economy by prohibiting anti-competitive trade practices and protecting consumers from unfair business practices.
Among the competition issues tackled during the lecturers was the merger of the Malawi Savings Bank and FDH. Some students queried the Commission for allowing the merger when it was fully aware that the transaction would decrease competition on the market.
In response, Malonda said although some mergers can impede competition, others may bring substantial efficiencies, which includes rescuing failing firms.
(Visited 32 times, 32 visits today)
Latest posts by Vanessa Banda
(see all)