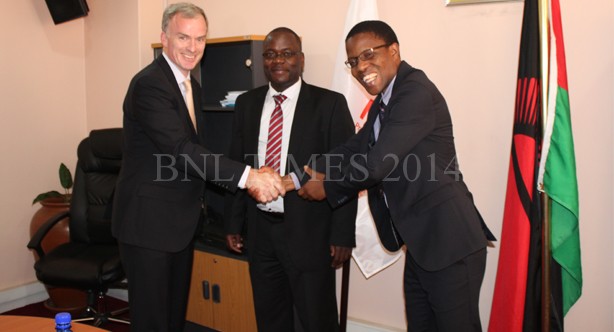 Chanco starts making multipurpose antennas
The Chancellor College of the University of Malawi has started making antennas for connection to both Internet and television access under the Television White Spaces (TVWS) project being run jointly by the college and Malawi Communications Regulatory Authority (Macra).
The project is also being supported with equipment from Microsoft Corporation of the USA.
Chancellor College ICT Researcher, Chomora Mikeka, said the antennas have multiple functions and can be used for, among other things, accessing of reception and transmission of television white spaces communications and as well as in the digital terrestrial TV and any other UHF TV.
He said the antennas have been designed with digital migration in mind which demanded a change in the design for new frequencies.
Mikeka also said the materials used ensured that they are produced at low cost to be sold on the market at prices that can be afforded by more people in the country.
"The antennas are being made of wire and this way we are cutting down the cost, and everyone has a potential to be connected," said Mikeka.
He disclosed that the antennas will be selling at K3,000 compared to K10,000 for others of similar nature on the market.
Mikeka also disclosed that the antennas have received a lot of international interest since Malawi is the only country that has produced such equipment with local expertise.
He called on the government to support the innovations so that the college is able to produce the antennas in large numbers for the market.
"The college on its own does not have the capacity as we are not industry oriented. We can only make a handful of them and this is a call to the government to support local innovations that we have.
"We need the government and the private sector to work with us and produce the antennas in mass and brand them Malawian Already Microsoft has asked us if we want to partner with them," he said.
Macra Deputy Director of Spectrum Management Jonathan Phinifolo said the TVWS project is aimed at improving access to the Internet in the country's rural areas.
He said the antennas will be used to connect Internet in some local institutions schools and hospitals.
Microsoft Director Technology Policy Paul Garnett said his company is supporting the TVWS project to help address issues of health care, e-government, education and small businesses to connect across the continent.
He said there is a potential that the antenna's will have a global impact.
"The antennas can be used in wireless connections and lower cost radio designs and this has a potential to have a global impact," he said.
Latest posts by Vanessa Banda
(see all)