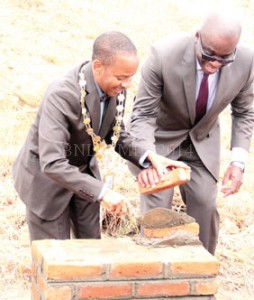 Chapima Heights goes to Blantyre City Council
Chapima Heights goes to Blantyre City Council
Press Properties Limited has handed over Chapima Heights area to Blantyre City Council, as a way of ensuring that residents get better services.
PPL also laid a foundation stone for the construction of Chapima Heights police unit and also planted trees as a way of afforestating the area.
Press Sales and Marketing officer Catherine Kaimila said by handing over the area to BCC, Chapima residents will benefit from services provided by the city council.
"The residents will benefit through road construct ion and maintenance, water and electricity supply just to mention but a few," she said.
Kaimila also said that the police unit will help reduce crime rate within the surrounding area.
Blantyre City Mayor Noel Chalamanda said Chapima Heights will help the council collect extra money in form of city rates.
"The handover of Chapima Heights to us could not have come at any opportune time than now when the council is determined to maximise revenue collection so that in turn we can improve our service delivery," said Chalamanda.
He further said the foundation stone for the police unit is a positive response to an outcry of security breakdown in the area.
"We have joined hands with our security agents to make sure that Blantyre is safe and secure to do business in as well as for the residents. The foundation stone we have laid, gives us joy that shortly, this place will have its own police unit.
"I would also like to assure you that security is one of our priorities as a council because we would want Blantyre to attract more investment. No one would want to invest in a city that is not secure," he said.
Latest posts by Vanessa Banda
(see all)