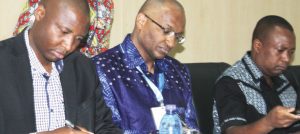 Check government borrowing to bring down rates—Bam
By Matilda Chimwaza:
Bankers Association of Malawi (Bam) on Tuesday said Malawi should address the root cause of high interest rates rather than putting a cap on interest rates.
Speaking in Mangochi District on the sidelines of the Reserve Bank of Malawi Monetary Policy Conference, Bam President, Paul Guta, said checking excessive government borrowing could help tame the prevailing high costs of borrowing on the market.
Guta said, while commercial banks agree that the interest rates are high in the country, there is a need to do the right things rather than forcing it by capping.
"We agree with everybody that says interest rates are high and that's true. But I think the real issue becomes what do we do about it? The question then becomes do you force it into the market or you work for it; do the right things to have the right outcome.

"For us, as banks, to force it is not right for this economy but do the right things which are causing the interest rates to be high and once we do the right things to solve those fundamentals, then naturally interest rates will go down," Guta said.
He said the government needs to take into consideration all fundamental principles that are contributing to high interest rates and the commercial banks will respond accordingly.
Among others, Guta said government over-borrowing is one of contributing factors to the high interest rates in the country.
"The other thing we can also be looking at is, for example, government borrowing. We are today at the highest levels of K3 trillion debt of which K1.2 trillion is domestic debt—that is high. Let us cut our shirt according to our size.

"By excessive borrowing, you push up interest rates so the issue then is not to go to Parliament and pass a law that says banks we shall price at that—that's wrong. You go to Parliament and discuss how do we improve productivity in our economy, how do we cut our cloth according to our size in our economy in terms of government spending and how do we get our people to repay loans on time. That is what we must be discussing in our Parliament and not capping interest rates," Guta said.
Finance, Economic Planning and Development Minister, Goodall Gondwe, spoke on the importance of controlling interest rates to boost private sector investments and growth rate.
"Interest rates determine, to a very large extent, the levels of cost for your production and if they are high then your cost of production is also high and therefore your profits are going to be low and you are going to determine to invest more if you think your profitability is going to go up, that's how important interest rates are.

"Interest rates determine how much investments we are going to have in the country. If you were an economist, there is an equation where you actually see that the larger the investments you have the higher the gross you are going to have. Unfortunately, the lower the interest rate the higher the investments and, therefore, the lower the interest rates the higher the growth rate," Gondwe said.
Reserve Bank of Malawi Governor, Dalitso Kabambe, said interest rate capping is not a new phenomenon in Malawi, saying until 1987 the central bank was setting a cap on interest rates for commercial banks.
Latest posts by Vanessa Banda
(see all)