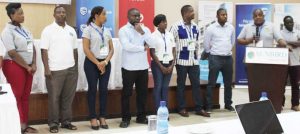 Chikumbutso Kalilombe is new Ecama president
The Economics Association of Malawi (Ecama) annual general meeting (AGM) on Thursday elected Chikumbutso Kalilombe as the new president, taking over from Henry Kachaje who has been at the helm of the think-tank for the past three years.
Kalilombe will be deputised by Lowina Mwasigala. Other members of the new executive committee are Frank Chantaya, Lauryn Nyasulu, Esnart Chilije, Enock Kondowe, Heck Chavula and June Kambalametore Mtila.
Speaking on the sidelines of the AGM, Kachaje called on authorities to engage local experts more to inform the country's policy direction instead of relying heavily on foreign institutions.
Kachaje said it is unfortunate that most of the policies being implemented are donor driven.
He said this is so despite the country training many economists who have capacity to come up with advice that can effectively inform policy.
"Our appeal to government is that it must engage local experts because they talk from a point of experience and every time we rely on what foreign-based institutions are saying, we are not making good use of our own resources," he said.
Kachaj e described his tenure at the helm of Ecama as fulfilling, saying some of the recommendations the association made were taken on board to influence policy direction.
(Visited 40 times, 40 visits today)
Latest posts by Vanessa Banda
(see all)