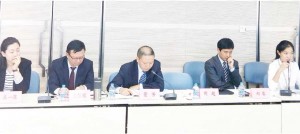 China tips Malawi on attracting FDIs
The China Africa Development Bank (Cadfund) has challenged countries like Malawi to create industrial parks if they are to attract more Chinese investments and boost industrial output.
Cadfund is a Chinese government finance institution with $10 billion capital that bankrolls Chinese private investments into African countries and has interests in agriculture, manufacturing, transport, logistics, energy, telecoms, housing, petroleum, mining and industrial parks.
While some countries like South Africa, Ethiopia and Tanzania get bigger shares, countries like Malawi still lag behind due to investment bottlenecks, according to Cadfund.
In Malawi, Cadfund runs the Chinese cotton industry venture in Balaka as a flagship investment but according to Executive Vice President, Zhou Chao, Cadfund sees a lot of other opportunities especially in agriculture related industries.
"We have a successful project in Malawi but we see other opportunities. We hope to make more investments in the future but there should be more favourable conditions to attract more companies," said Zhou.
He was speaking when he led officials of Cadfund at an interface meeting with African journalists based at China Africa Press Centre in Beijing to share on successes, challenges and opportunities during the nine years of its existence.
Among the challenges Cadfund identified as being synonymous to African countries include unstable exchange rates, volatile investment climate, infrastructure gaps, lack of supportive basic industries like suppliers and talent deficiencies.
But according to Zhou, the best way to attract Chinese investments is to create industrial parks that host complete value chains from material production to value addition.
This is a common Chinese model that has been improved overtime and entails dedicating an area as an industrial hub where companies produce products and services under preferential conditions and benefits spill over to induce national industrial development.
Meanwhile, government through Malawi Investment and Trade Centre is conceptualising Special Economic Zones to be established in selected sites but the processing is still in early stages.
(Visited 57 times, 1 visits today)
Latest posts by Vanessa Banda
(see all)