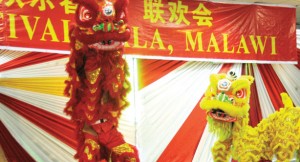 China trade forum in Lilongwe Tuesday
Standard Bank in partnership with the Embassy of the People's Republic of China in Malawi is today hosting a day-long Business Forum in Lilongwe aimed at strengthening and deepening business relations between the two countries.
Industrial and Commercial Bank of China (ICBC) is Standard Bank's largest shareholder with a 20 percent stake in the Standard Bank Group.
Standard Bank chief executive officer, Andrew Mashanda, said the forum gives the bank a platform to showcase its expertise in handling business and investments involving the two countries.
He said the bank's expertise on China is backed by the synergy and deep pool of resources the bank taps from its global network that includes Asia where Standard Bank is represented in Shanghai and Beijing through its partnership with ICBC.
"As a global leader in commodity-related financial services, Standard Bank is well-positioned to realise significant opportunities for our clients in this market," said Mashanda.
"We consider ourselves as the Chinese experts because of the synergy and deep pool of expertise we tap from our global network that includes Asia," he said.
He said Standard Bank is committed to move Malawi-China business forward through its innovative products and services.
The forum has attracted speakers from Reserve Bank of Malawi, Ministry of Trade & Industry, the Malawi Investment and Trade Centre, Chinese Embassy and Standard Bank.
Trade between Malawi and China trade dates back to 2008 when the two countries signed a Memorandum of Understanding covering industry, trade and investment.
Under the agreement, China made a commitment to help in increasing the productive capacity of Malawi in tobacco, cotton, mining, forestry, fertiliser production and in processing hides and skins, among others.
In turn, Malawian exports enjoy preferential access to China's markets and provides incentives to Chinese businesses investing in Malawi.
(Visited 21 times, 21 visits today)
Latest posts by Vanessa Banda
(see all)