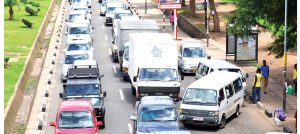 Christmas spending hype | The Times Group
By Sharon Chirwa:
Christmas is as old as Christianity but, despite being celebrated for over two thousand years, some buyers spend money recklessly, as if, each year, they want to draw new lessons for the future.
But, as they say, repeating the same mistake while waiting for a different outcome is tomfoolery, which every foresighted individual must guard against— especially on a day that tests our ability to believe in human reason.
What brings this to mind is the fact that Christmas spending reached a peak this weekend amid concerns of rising cost of living.
Traffic jams charecterised most roads in the four cities of Blantyre, Zomba, Lilongwe and Mzuzu.
The festive season spending hype comes barely two weeks after Malawi's headline inflation was reported to have crawled back to the double digit lane in November, inching up by 0.4 percentage points to 10.1 percent.
On the other side, buying power of the local unit, the kwacha, continued.
Most consumers we spoke to said they had no option but to have a stylish celebration of the festivities.
Atupele Kamwendo of Blantyre said, while rising inflation had an impact on commodity prices, she needed to shop in bulk for the season.
"The 2018 prices are definitely higher than the 2017 prices, but what can I do? I want my family to have a great festive period," Kamwendo said.
Other consumers said they were also shopping for family and relatives.
Kelvin Makawa said it had become customary in the festive season to buy groceries for his parents.
"It is automatic that I buy double of everything. It costs more, but I have to. This year I just haven't been able to buy everything I bought last year. I cannot afford," Makawa said.
During this season, retail shops register massive booms in sales with a guaranteed rise in profitability.
But a recent snap survey conducted by The Daily Times revealed that, during the season, till operators in most supermarkets and chain stores are fond of defrauding customers by registering items one is buying multiple times and making one pay more than the actual cost.
In a recent interview, Consumers Association of Malawi Executive Director, John Kapito, said consumers should be cautious when purchasing goods.
Latest posts by Vanessa Banda
(see all)