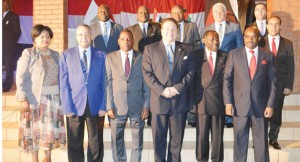 Cigarette factory in 18 months, says AHL
AHL Group, w h o s e subsidiary Malawi Leaf Company Limited has teamed up with an Egyptian company to establish a cigarette manufacturing plant in the country, says it expects cigarettes to start rolling out of the factory's production lines by the end of 2016.
The factory is expected to produce cigarettes of superior quality to be exported within the region and other international markets in the Arab world, Europe and Asia.
AHL Group chief executive officer, Evans Matabwa, said in an interview over the weekend that discussions with Eastern Company of Egypt officials on the structure of the partnership should be concluded within the coming few months.
He said, however, that the proposed joint venture company will operate two factories, one for tobacco processing, and the other for cigarette manufacturing.
"The processing factory will mainly take in raw tobacco bought from the floors and thresh it accordingly and in readiness for use in the cigarette making," said Matabwa.
"This is similar to the level of processing which currently takes place in the Malawi tobacco industry. At the moment, our [threshed] tobacco gets exported to different destinations at this level," said Matabwa.
He explained that discussions on the project started in 2009 and that various meetings have taken place, especially within the past one year.
He described the cigarette plant as an important economic tier in the life-line of the Malawi tobacco industry for a number of reasons.
He said the coming in of such an investment at this time in the history of Malawi tobacco signifies potential for stability in the industry and that a significant quantity of Malawi tobacco will have a steady market for the foreseeable future.
"This is genuine sustainability which benefits both ways, the demand and supply side.
The plant will also bring substantial economic value to be derived from creation of new jobs at various levels in these factories.
There will also be improvement in competitiveness as far as tobacco trading will be concerned, particularly on the domestic market, said Matabwa.
For the Egyptian company, Matabwa said the project brings them straight to the source of raw materials.
Matabwa said the project should be completed within the next one and half years, if everything goes according to plan, and was optimistic that the government machinery will facilitate the required processes for the investment to take off as soon as possible.
"I must mention that up to this stage, we have received a lot of support from government, at the highest level," said Matabwa.
(Visited 2 times, 2 visits today)
Latest posts by Vanessa Banda
(see all)