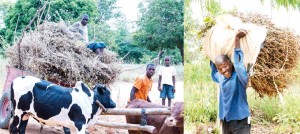 Climate change affects legume production
Farmers in the Northern Region have raised concern over the low supply of legume seeds by most agro-dealers but the seed experts have attributed the problem to poor rainfall, a result of changes in climatic patterns.
Challenges in the tobacco market have forced some farmers to switch to legume production but seed scarcity is now proving to be a problem.
While admitting the trend has had negative repercussions in ensuring adequate supplies for farmers, Funwe Seed Regional Sales Manager for the northern and central regions, Ralph Makaka, said most legumes require rainfall, which he said has been in short supply in recent years.
Different parts of the country continue to face drought and prolonged dry spells due to loss of vegetation among others for any meaningful precipitation.
"We are also affected but are employing various climate smart farming technologies to address the challenge. Our farmers are also being trained to ensure that our agro-dealers are well stocked with certified seeds," Makaka explained.
In the last three weeks, Funwe Seeds Limited has been training its northern region Agro-dealers in stock management, storage fundamentals and record keeping preparing them for the 2016/2017 growing season.
(Visited 9 times, 9 visits today)
Latest posts by Vanessa Banda
(see all)