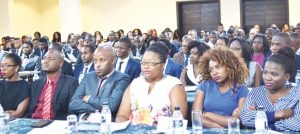 'Climate hostile for budding businesses'
By Taonga Sabola:
Final-year students from the Faculty of Commerce at The Polytechnic have asked authorities to put in place deliberate measures to ensure that graduates embrace entrepreneurship.
This was said in Blantyre on Friday during symposium the students organised as one way of showcasing what they have learned over the past four years and interacting with potential employers and government authorities.
The symposium was held under the theme 'Entrepreneurship: A Key to Sustainable Economic Development'.
A representative of Bachelor of Business Administration students, Alexander Thindwa, said, much as many fresh graduates would like to start their own enterprises and help the government in job creation, there are many bottlenecks that affect budding businesses in Malawi.
Thindwa cited, among others factors, the prevailing high interest rates, unfair competition and punitive taxes as some of the challenges that are scaring the youth from taking the entrepreneurship route.
He said it does not make any business sense for a budding business to borrow capital at around 30 percent, describing it as too high.
"In addition, our taxation regime does not promote the growth of infant businesses. How do small businesses grow when you slap them with the same tax rates as established enterprises?" he asked.
Faculty of Commerce comprises disciplines such as accountancy, business administration, banking and finance, internal auditing, marketing as well as procurement and logistics management.
Deputy Dean of Commerce, Rabia Hanif, said the students have been equipped with the necessary skills to adapt to employment and entrepreneurship.
Reserve Bank of Malawi Chief Examiner, Paul Nyirenda, who was guest of honour at the symposium, urged the students to take advantage of the stability in the economy to start their own businesses.
Nyirenda said, with more students graduating from university collages each year, there was no guarantee that every student would get a job, hence the need for them to use whatever they learned in class to make money.
Latest posts by Vanessa Banda
(see all)