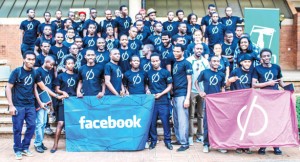 Colleges sample Smart challenge
In a bid to familiarise students on its Smart Challenge competition which will see winners flying to Silicon Valley in the USA, TNM and its partners toured the country's major college campuses to host TNM Smart Challenge workshops.
The TNM Smart Challenge workshops were conducted in partnership with Facebook, mHub and IBM. The teams have so far been to the Polytechnic in Blantyre, Chancellor College Zomba and Mzuzu University in Mzuzu.
Speaking during the final workshop at Mzuzu University campus, TNM marketing manager Madalitso Jonazi said the workshops were designed to equip the students with knowledge on the formalities of participating in the Smart Challenge.
The TN challenge will require entrants to come up with ICT application ideas and develop them into socially-relevant projects.
Jonazi said through these interactions at the three colleges, TNM has managed to reach out to over a thousand students with whom it shared knowledge and tools on how to go about turning their ideas into tangible mobile applications apps.
"TNM Smart Challenge will award local content and application developers. This is the first initiative of its kind in Malawi. The programme is aimed at nurturing and inspiring talent among students," said Jonazi.
He encouraged prospective competitors to register before the closing date of October 31, 2015 and stand a chance to win a trip to Silicon Valley in California, United States of America.
Facebook strategic manager, Jennifer Fong, said Facebook is happy to be part of the Smart Challenge and looks forward to receiving and supporting innovative and exciting application solutions through the initiative.
"The reason we decided get involved in this is because we believe that we are investing in Malawi's next generation technologically. We would like to see more services, more Apps and more websites coming out of this country," Fong said
TNM has engaged mHub, Facebook, Google, Opera Software and IBM as technology partners for this initiative
(Visited 15 times, 15 visits today)
Latest posts by Vanessa Banda
(see all)