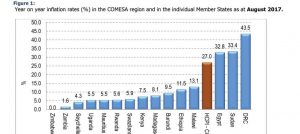 Comesa rates Malawi's inflation 4th highest
While headway is being made to lower inflation domestically, Malawi is still among countries in the Common Market for Eastern and Southern Africa (Comesa), where the prices of goods and services are increasing at a faster rate as compared to other countries.
Out of the 15 participating member countries that contribute to the Comesa Harmonised Consumer Price Index (HCPI-Comesa), Malawi is ranked on position 12 with an inflation rate of 13.1 percent.
Comparatively, in August 2016, Malawi was rated as the second highest with an inflation of 25.1 percent.
The HCPI-Comesa comprises of 12 divisions of expenditure and includes food, clothing, housing, water, electricity, communication and miscellaneous goods and services.
Democratic Republic of Congo is seen with the highest inflation rate of 43.5 percent followed by Egypt at 32.4 percent. In third place is Sudan with an inflation of 33.4 percent then Malawi.
Zimbabwe had the least inflation at 0.0 percent followed by Zambia at 1.6 percent then Seychelles at 4.3 percent.
Locally, for the past 14 months, Malawi's inflation has been decelerating to hit single digit in August. The positive trajectory was maintained in September with headline inflation easing to 8.4 percent.
But, economic analysts have asked authorities to stabilise the supply side of maize and work on lessening the consumption side of the staple, if the country is to sustain the improvements.
Professor of Economics at Chancellor College, Ben Kalua, in an earlier interview said it is likely that inflation will start to go up again in the coming months, as the country moves further away from the harvesting season, pushing up maize prices in the process.
Food features heavily in Malawi's inflation basket accounting for 50.1 percent of the weightage in the basket.
Now more calls are coming to the fore to revisit the country's Consumer Price Index, particularly the composition and weightage of the basket to ensure that inflation trends are in tandem with people's buying patterns.
(Visited 27 times, 27 visits today)
Latest posts by Vanessa Banda
(see all)