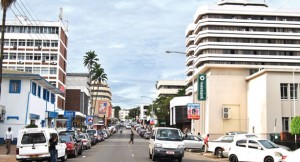 Company certificates to be valid for 3 years
The new company registration certificate that the Office of the Registrar General is working on is expected to be valid for three years.
The Office of the Registrar General made an announcement that it is working on establishing a new online data base which will be computerised.
Overseer of the project in the Registrar General Office, Chikumbutso Namelo, said in an interview that through the online business information system, people won't need to travel long distances to incorporate a company at the Registrar General's Office.
Namelo said the rationale behind the three-year period is to ensure that only active institutions are populated in the system.
The exercise, which was bankrolled by the Department for International Development (DfID) in 2010, is being implemented by Techno-brain.
Namelo said the re-registration exercise was expected to start last year but due to other technical challenges, the consultant did not finish his job as expected.
Government through Parliament enacted the Malawi Business Registration Act (MBRA) to replace the colonial Business Name Registration (BNR).
The new registration system, is expected to assist companies to conduct, among others, due diligence and investigations on companies as well as assisting Financial Institutions Units (FIUs) with information.
When the re-registration plans were first announced, local business operators lamented over the lack of consultation on the matter, saying despite the idea being welcome, their input as concerned parties was crucial.
The re-registration exercise is part of the Business Environment Strengthening Technical Assistance Project (Bestap) which aims at improving the business environment through, among others, promoting local investment and re-investment.
At present, there are approximately 198,000 commercial entities on the registers which comprise 176, 000 sole proprietorships and partnerships, 15,000 limited liability companies and 7000 incorporated trusteeships.
These registrat ions comprise both active and dormant companies and, in some instances, even date as far back as before independence in 1964
(Visited 14 times, 14 visits today)
Latest posts by Vanessa Banda
(see all)