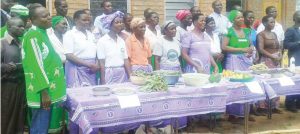 Comsip launches new scheme | The Times Group
Community Savings and Investment Promotion (Comsip) on Friday launched a funeral scheme aimed at enabling its members to manage risks following the loss of loved ones.
The scheme has been launched in partnership with Nico Life.
Speaking during the launch of the scheme in Lilongwe, Comsip Union Limited Board Chairperson, Caanan Gondwe, hailed the new product as a timely intervention during difficult times.
"The funeral scheme we are launching today will assist bereaved families.This is something to lean on. Let me urge all Comsip members to grab this opportunity and not delay to register," Gondwe said.
Comsip Union Limited Chief Executive Officer, Tenson Gondwe, said the union is receiving pressure to launch new products and services.
"We are also proposing the introduction of investment loans for all Comsip members and plans are already underway to introduce this product. We want to support the financial inclusion agenda," Gondwe said.
Senior Manager at Nico Life, Lillian Moyo, said the company was pleased to partner with Comsip in enhancing the institution's objective of creating linkages for its member groups.
Moyo said such linkages started with credit lending institutions and, now, life insurance.
"Our funeral plan is affordable, easy and sustainable. It conforms to micro-insurance principles and safeguards members from unexpected expenses associated with funerals," Moyo said.
In the scheme, Comsip members are expected to contribute as little as K600 annually and Nico will be supporting the individual with funds of up K75,000.
Comsip, a government savings and investment initiative, has a total membership of 135,47. The institution has been able to mobilise an estimated K2.9 billion in savings.
(Visited 1 times, 1 visits today)
Latest posts by Vanessa Banda
(see all)