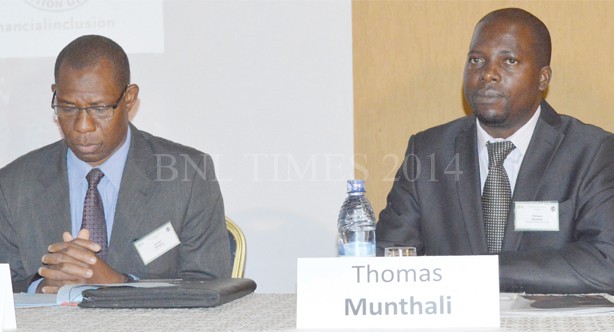 Constraints Hinder Financial Inclusion
Researchers working with Innovations for Poverty Action (IPA) have highlighted five constraints that are hindering the adoption and usage of financial services by the poor in Malawi and across the African continent.
The constrains, according IPA Country Director for Malawi Thomas Munthali, include transaction costs, lack of trust and regulatory behaviors, information and knowledge gaps, social constraints and behavioral biases.
He was speaking in Lilongwe on Thursday during the 'Better Banking Conference' organised by IPA and the Bankers Association of Malawi (Bam) to allow researchers to share evidence on the findings and how they can be addressed to achieve better banking and financial inclusion in Malawi.
The conference was a partnership between IPA and Bam and brought together practitioners and policy makers to discuss empirical evidence on financial inclusion from randomized evaluations conducted by IPA and its partners in Malawi and other countries.
Munthali said the research findings points to a need to dig deeper to find out what works when designing financial inclusion programmes.
"The question remains as to whether the many activities outlined in the financial inclusion strategy will be effective at delivering the desired outcomes, particularly around savings behavior," said Munthali.
He said key to the financial inclusion agenda is the need for innovation among financial sector players.
"Banks and finance industry generally need to be creative in the products they come up with," said Munthali.
He said programmes, strategies and products adopted by the financial market players also need an evaluation.
Munthali said randomised evaluations in particular can offer better insights to determine the effectiveness or impacts of adopting certain knowledge programmes and product features in enhancing uptake and usage.
On her part, Bam executive director Lyness Nkungula said the association is committed to ensuring that all milestones spelt out in banks' policies should be achieved although it remains a challenge for the financial institutions to develop pro-poor ways of conducting business.
"We will continue to ask the Reserve Bank of Malawi to consider reviewing its requirements for financial institutions seeking to open outlets and operate in rural areas and usually difficult areas," said Nkungula.
Officially opening conference on Thursday, Secretary to the Treasury Ronald Mangani said the Malawi government will continue to implement financial sector reforms with the aim of fostering financial sector development and stability for the attainment of inclusive growth in Malawi.
"Development of inclusive finance in Malawi can play an important role in reducing the risk and vulnerability of the people and increasing the ability of Malawians to access basic services like health and education through financial intermediation," said Mangani.
Source link
Latest posts by Vanessa Banda
(see all)