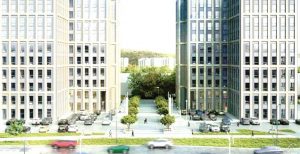 Construction to start on $100 million business park
China Lilongwe Grand Holding Corporation will this week start constructing the $100 million Lilongwe Grand Business Park project, which comprises a shopping mall, high class office buildings, villas and a five-star hotel, among others.
The project is one of the outcomes of the first Malawi Investment Forum, which took place 2015.
The project, located in Area 46 along the by-pass road, will be completed within five years but in three phases.
Malawi Investment and Trade Centre Public Relations Manager, Deliby Chimbalu, said the project comprises 20 hectares of integrated mall and hotel development and is being promoted by China Lilongwe Grand Holding Corporation Limited Company, which was registered in Malawi in August 2015.
'We are pleased to inform the public that all the processes regarding implementation of the Lilongwe Grand Business Park project have been finalised and a ground breaking ceremony for the same has been schedured for November 22 this year.
"It is also estimated that this investment will directly create 1,500 jobs and 2,000 indirect jobs for Malawians," she said.
Chimbalu said the park is aimed at providing business facilities under one roof.
"The project has been designed in a way that people dealing in commercial activities will find basically everything under one roof. Talk of building materials, decoration materials, furniture, clothing boutiques, cars and auto-parts sales, electrical appliances, banking facilities and on top of that the business park will have wide internet coverage,' Chimbalu said.
(Visited 110 times, 110 visits today)
Latest posts by Vanessa Banda
(see all)