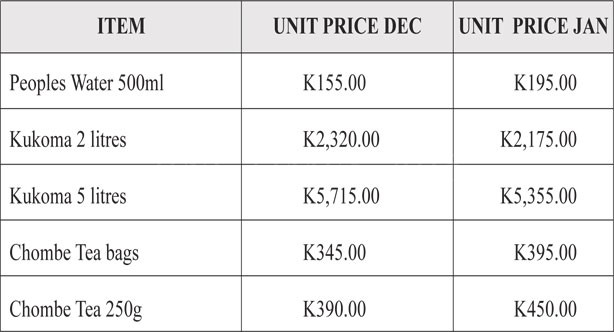 Consumers Association of Malawi survey shows no change in prices
The Consumers Association of Malawi (Cama) has released a report of a survey it conducted between November 2014 and January 2015 which shows that prices of goods on the local market have generally not changed over the period.
This is despite the significant and consistent appreciation of the Malawi kwacha since mid December last year and the reduction of fuel prices twice over the same period.
Cama executive director, John Kapito, said the association has since written Minister of Industry and Trade Joseph Mwanamvekha to operationalise the Consumers Protection Act through which a body has to be set up to monitor commodity prices.
"This body is key in ensuring that companies do just justify their prices in a liberalised economy where we still have many inefficiencies and huge monopolies," said Kapito.
The Cama Inflation Basket actually shows that prices of some commodities have gone up during the period.
Out of the 50 different commonly used consumer items surveyed, price changes have been observed only in five items between December 2014 and January 2015 and these include Peoples Water, Kukoma cooking oil 2 litre bottle, Kukoma cooking oil 5 litre bottle, Chombe Tea bags pack of 50 and Chombe Tea 250 grams pack.
Prices which went up over the period include that of a 500 ml Peoples Water bottle which was selling at K195 in January from K155 in December, the Chombe Tea pack of 50 tea bags which was selling at K395 in January from K345 in December and the price of a 250 grams pack of regular Chombe Tea which was selling at K450 in January from K390 in December.
The only items out of the 50 items surveyed whose prices went down were that of Kukoma cooking oil whose prices for a two litre bottle was reduced to K2,175 in January from K2,320 in December and that of five litres to K5,355 per bottle in January from K5,715 in December.
During the survey, Cama says it was also shocked to notice that the exchange rates have not moved downwards as much as there are huge differences between the selling and buying of foreign currency where some banks are buying the dollar at K435 and selling the same at K 495.
"And this has a huge play in the way prices are factored in Malawi. We are still closely monitoring this," reads the Cama report.
Latest posts by Vanessa Banda
(see all)