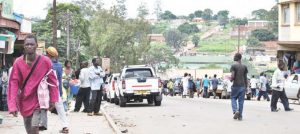 Consumers lose out on inflation
At a time when authorities are celebrating a reduction in headline inflation over the past several months, consumers still have to dig deeper into their pockets to access basic commodities and services.
A snap survey we conducted in major retail outlets in Blantyre and Lilongwe has revealed that prices of most basic commodities have either gone up or stagnated in the first quarter of the year.
According to figures from the National Statistical Office (NSO) the inflation rate is currently standing at 16.1 percent, an improvement from 22 percent registered during the same period last year.
But the people we spoke to on the streets of Blantyre and Lilongwe claim there has not been any significant change on the prices of basic commodities on the market.
Chiyembekezo Chipula, a resident of Chichiri in Blantyre, said it is sad that while inflation is going down, prices of goods are still on the rise.
Consumers are now calling on the government to lessen the impact of the high inflation prevailing in the country by ensuring that industry also follows up the improvement with a reduction in prices of basic goods and commodities.
Currently, a loaf of bread is being sold at between K350 and K400 a loaf, a 1kg packet of sugar at K800, a two litre bottle of cooking oil is selling at K3,000 and a tablet of bath soap is now at K140 from K80 in January.
A resident from Lilongwe's Area 25, Esmy Mangwaya did not hide her frustrations saying when the government claims the economy is on track, it is only on paper and not what the people are experiencing on the ground.
"They should have at least made sure that the poor access basic goods like sugar. We can't afford a packet of sugar now selling at K800. It would be more affordable is the price was K500" Mangwaya said.
Mangwanya and the other people we spoke to also alleged that shop owners are raising prices of basic commodities at will which further aggravates the plight of consumers.
Economist Gilbert Kachamba said non-food inflation is likely to fall down soon which will contribute to a drop in the prices of goods and services
In November last year, Reserve Bank of Malawi Governor, Charles Chuka, told journalists that consistent implementation of a tight monetary policy stance and actions by government to reduce expenditure are helping to reduce inflationary pressures.
(Visited 36 times, 36 visits today)
Latest posts by Vanessa Banda
(see all)