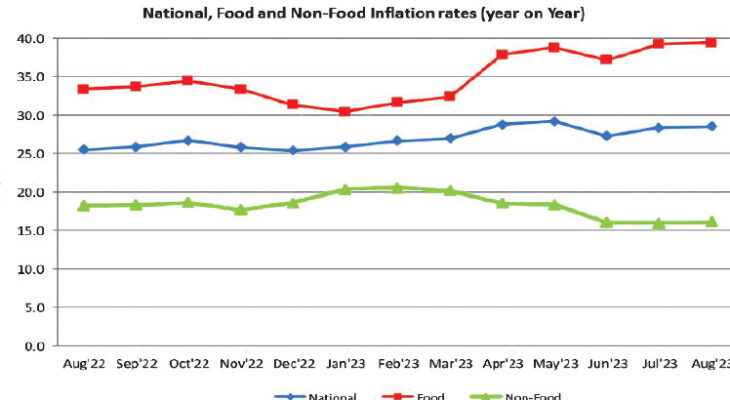 Consumers wary as prices rise further
Consumers will continue to dig deeper into their pockets following the rise in inflation rate for August 2023 to 28.6 percent, according to the National Statistical Office (NSO).
This means that prices of goods and services increased at a faster pace in August compared to July when the inflation rate was recorded at 28.4 percent, hitting consumers hard.
 Inflation rate has risen without interruption from 7.6 percent in August 2020 to the current rate.
Speaking in an interview yesterday, Consumers Association of Malawi executive director John Kapito said with the continued rise in the prices of goods and services, consumers are worse-off than they were in the past year as their purchasing power has been eroded.
He said: "Consumers are witnessing the sharpest rise ever seen and sadly the trend seems it would continue as the country seems to have no strategies to calm it.
"There seems to be no room for deliberate strategies to assist consumers as our economy does not have any coping mechanisms for consumers and more especially the poor."
NSO data shows that during the period under review, food inflation rate rose to 39.4 percent from 39.3 percent in July while non-food inflation rate also increased by 0.1 percentage points to 16.1 percent from 16 percent in July.
The constant rise in inflation has continued to devour households with consumers indicating that their lives have become unbearable at a time a time the cost of living crisis continues to bite hard.
Economic statistician Alick Nyasulu observed that a rise in inflation, the rate of the general rise in prices of goods and services, is expected given the current food situation coupled with external factors that traditionally affect inflation.
He said: "Fertiliser was not easily accessible to most farmers. This, coupled with a shambolic Affordable Inputs Programme also affected farmers who could access it at market prices  but could not get it.
"On the other hand, with Cyclone Freddy, crops were destroyed in the Southern Region, the most populous part of the country. All this will continue to put pressure on food prices and we should expect further surge in inflation unless there is a deliberate intervention by authorities to flood the market with maize."
Nyasulu said the likelihood of bank interest rates going up as well is imminent.
The Reserve Bank of Malawi (RBM) Governor Wilson Banda earlier said that as long as inflation keeps going up, they will not choice by to  continue raising the policy rate currently at 24 percent.
Meanwhile, RBM has revised upwards its 2023 inflation rate projection to an average 29.5 percent for this year.
This is 8.6 percentage points higher than its earlier projection of an average 24.5 percent projected during the first Monetary Policy Committee (MPC) meeting and an average of 20.9 percent in 2022.
In its third MPC report issued recently, the central bank said the revision has taken into consideration persistent pressures on inflation such as supply and demand-side related shocks.
Let us know what you think of this article and remember to add us on our facebook and follow us on our twitter. Come back daily for more Malawi business news.
Quick Links: Download Business eBooks | Ten Signs You Are An Entrepreneur | What is a Managing Director?
Latest posts by Vanessa Banda
(see all)