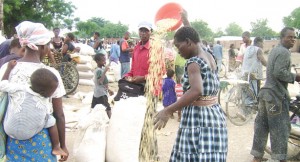 Cost of living goes up 2.7%
The Centre for Social Concern (CFSC) says the continued increase in food prices has led to an increase in the basic needs basket from K 118, 663 in K121, 875 in June to K126, 457 in July representing a 2.7 percent increase.
CfSC says this is in sharp contrast to 2014 when the cost of the basket declined by an average of 1.7 percent in June.
The CfSC Basic Needs survey report for July also shows that in the month of July, the price of beans went up by 15 percent. The price of maize per kilogramme went up by 5.8 percent in June and pushed up further by 0.94 percent in July such that a 50Kg of bag as of end July was selling at an average price of MK6, 389 in the cities and major towns.
In Blantyre and Mangochi the prices were as high as K8, 000 and K7,500 respectively for an equivalent bag of 50kgs. Other consumer commodities such as sugar and beef went gone up by 3.7 percent and 0.5 percent respectively.
CfSC says maize price increases and the unprecedented volatility in commodities is likely to hurt many households.
"Many Malawians are likely to survive at the margins. Crop prices, more especially maize, play an important role in the basic needs basket and in the overall cost of living for most of the society in Malawi. Maize has a fundamental role throughout Malawians' livelihoods. Maize is, after all, a basic need, the very stuff of life in Malawi," said CfSC in the statement.
The soaring maize prices have also had a ripple effect on inflation with latest figures from the Common Market for Southern and Eastern Africa indicating that Malawi's year on year inflation rate has risen to become the highest in the Common Market for Eastern and Southern Africa recorded at 23.5 percent in July.
Economic experts have since blamed the outcome on policies being advanced by the political leadership that are exerting pressure on consumption rather than production.
The Malawi Confederation of Chambers of Commerce and Industry earlier asked government to stop lumping resources on unproductive initiatives like the fertiliser subsidy programme and instead incentivize the production sector so that Malawi can achieve meaningful food security and bridge the gap between production and imports.
Chancellor College economics professor Ben Kalua also blamed government for employing artificial measures to propel the economy saying this poses a danger to the economy in the long-term.
(Visited 18 times, 18 visits today)
Latest posts by Vanessa Banda
(see all)