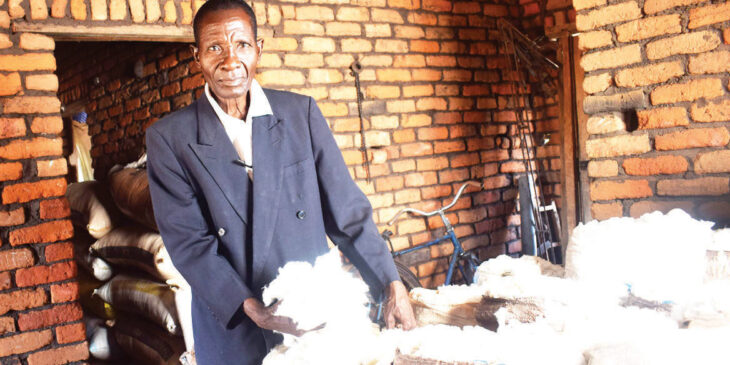 Cotton farmers settle for K360/kg
Lobin Lowe
Cotton farmers in the country have agreed to sell the commodity at K360 per kilogramme (kg) which exceeds the government-set minimum price by K40.
Last month, the farmers vowed not to sell their produce at the government's set minimum price of K320 per kg, arguing that they would lose out.
Cotton Farmers Association (Cofa) President Dickson Gundani, however, told The Daily Times Monday that the Cofa met with Minister of Agriculture Lobin Lowe who advised the farmers to discuss with the buyers.
He said they have so far managed to negotiate with some buyers including Malawi Cotton Balaka and Afrasian that have agreed to buy at K360 per kg.
"We are still negotiating with the Agricultural Development and Marketing Corporation for them to get to the price that others have offered," Gundani said.
He has since urged the farmers in the country to make sure they are selling their cotton in groups for them to sell at better prices of up to K400 per kilogram.
Last month, Gundani indicated that the farmers were not "happy" with K320, and proposed that the price be set between K400 and K450 per kg for them to realise profits.
In response, Ministry of Agriculture spokesperson Gracian Lungu said the K320 price was reached at after thorough consultation with stakeholders including the buyers.
The association further indicated that there is more cotton that farmers produced during the 2019/20 growing season that is yet to be sold due to low prices.
On April 1 2020, the ministry announced the 2020/21 agricultural season farm gate prices when he indicated that the minimum price for buying cotton was set at K320 per kg.
Among other crop produce per kg, shelled groundnuts at K480, polished rice at K600, Soya beans at K320, pure beans at K510, paprika would be selling at K830 while chillies price has been set at K770.
Mathews Kasanda is a Journalist who has recently joined Times Group Newsroom as an Intern. He is an outstanding media practitioner and in 2014, Media Institute of Southern Africa awarded him the Best Print Media Education Journalist of the Year accolade.
Let us know what you think of this article and remember to add us on our facebook and follow us on our twitter. Come back daily for more Malawi business news.
Quick Links: Download Business eBooks | Ten Signs You Are An Entrepreneur | What is a Managing Director?
Latest posts by Vanessa Banda
(see all)