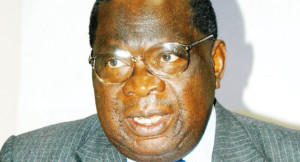 Court settlements dominate arrears
Minister of Finance Goodall Gondwe says settlement of court cases, legal bills and outstanding dues to road contractors dominate the K155 billion arrears which the government owes the private sector.
Suppliers of various goods and services to the police and the military are another large group of the businesses owed in arrears by the Malawi government, Gondwe said in a telephone interview on Tuesday.
He said the arrears were accumulated during the previous government of President Joyce Banda but assured the public that the present administration has made a decision not to incur new debts until the whole outstanding bill is repaid.
"It was like the government was buying from them and not able to pay," said Gondwe.
He said government is aware of the impact the unpaid debts have on the affected businesses and was working with Reserve Bank of Malawi to see how best they can be repaid.
Government, said Gondwe, has already paid a total of K10 billion to smaller businesses to enable them have liquidity for their operations.
Gondwe was responding to a complaint by Malawi Confederation of Chambers of Commerce and Industry (MCCCI) president Newton Kambala who described the K50 billion allocated in the budget for the settlement of the arrears as too little.
Government has started settling the areas through promissory notes and has categorized the repayment in three categories based on maturity of which the first category is expected to mature this financial year worthy K50 billion which will be paid as first installment.
The first bunch of the promissory notes are expected to mature this year, the next in 2016/2017 financial year whilst the last will mature in 2017/18
(Visited 1 times, 1 visits today)
Latest posts by Vanessa Banda
(see all)