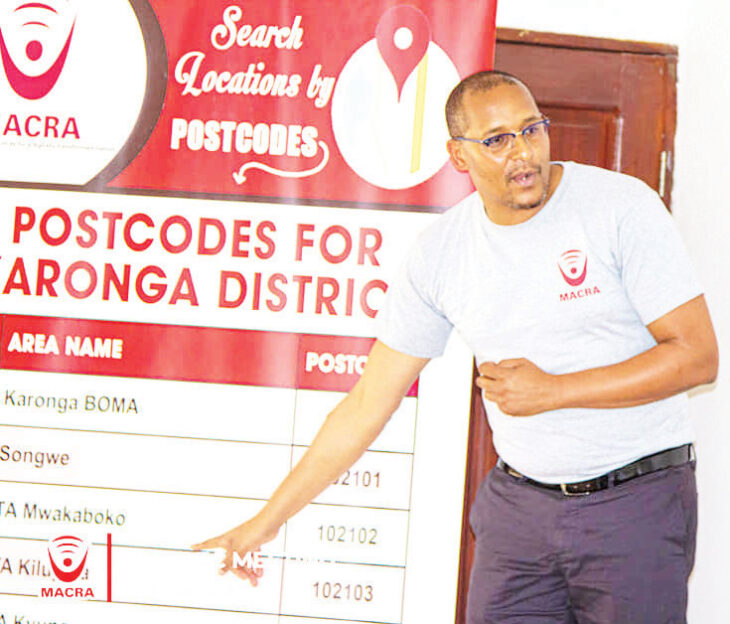 Creating order through National Addressing System – The Times Group
INVOLVED—Mzimba community representatives suggest names during a street naming exercise
By Francis Tayanjah Phiri, contributor:
Locating a house in Mbayani Township, Blantyre City, can be a nightmare.
The settlement sprawls from one end to the other with no definite planning that could ease the location of a house.
This means that in times of emergencies such as fire or medical rescue operations, ambulances or fire department officials would face a challenge to provide services.
This is not really unique to Mbayani Township.
Across Malawi, in both urban and rural areas, locating a house can be a challenge because there is no official addressing system.
So the practice is to give verbal directions.
"Pass a mango tree on the left; then you will find a broken down vehicle after the third bend and then some small sugar cane field on the right after that. Walk straight until you cross a stream. Then you will find a house painted white. There, ask for Mr Banda's house. They will show you."
Such a maze of direction!
And because of this puzzle that one has to solve to get to a house, door-to-door delivery of parcels, as it happens in other countries, is a challenge in Malawi, if not impossible altogether.
Acting Director of Postal Services at Malawi Communications Regulatory Authority (Macra) Burnet Namacha says lack of a comprehensive system of street naming and property numbering in Malawi has had a serious impact on the provision of socio-economic services.
"Without an addressing system, utility companies, courier operators and banks must establish a complex system of identification of an individual involving third-party references," he says.
Now with the National Addressing System (Nas), Macra is tackling the issue of disorganisation.
According to Namacha, Nas is a multi-stakeholder-driven national initiative whose primary objective is to develop a robust physical addressing system for Malawi.
The system identifies the location of a plot or dwelling on the ground and assigns an address using maps and signs.
According to Macra, Nas provides an opportunity to develop a system that ensures efficient and real-time delivery of services to citizens.
"The system is therefore essential for socio-economic development as it helps people to be connected to the formal economy through having access to a host of commercial and social products and services," Namacha says.
Nas is now being implemented on a national scale.
It started in 2019 with the four major cities of Blantyre, Lilongwe, Mzuzu, and Zomba – where Macra also implemented the pilot phase of the system earlier – before being scaled up to all the six districts of the Northern Region.
All roads at district centres of the six districts in the Northern Region have been digitised and named by the community members and all properties assigned numbers for identification.
In the current financial year, Nas is being implemented in the Central Region in five districts of Mchinji, Salima, Kasungu Municipal, Dedza and Lilongwe.
In the Southern Region, Nas is being implemented in Balaka, Blantyre, Chiradzulu, Luchenza Municipal and Mangochi Municipal.
Namacha lauds the role all stakeholders are playing to ensure proper implementation of the system.
Macra's intention is to be present in all districts of Malawi with the addressing system by the year 2025.
During a recent sensitisation forum for Nas in Blantyre, Macra officials underlined that there are no hidden costs for beneficiaries of the addressing system. This is all about socio-economic benefits for Malawians, they said.
The exercise, they say, would help people with easy identification at banks.
It would also ensure improved registration of births, marriages, and deaths, and also form a basis for easy issuance of National ID cards and facilitation of domestic and cross-border trade through home delivery of services.
In a recent Facebook post, Macra Director General Daud Suleman said Nas is part of the efforts of the government to make Malawi "digitally transformed".
"Every location, village and spot in Malawi has a post code; the national addressing system is now going live, making the street names and house numbers alive," he said.
In effect, Malawi is now becoming alive to orderliness.
Let us know what you think of this article and remember to add us on our facebook and follow us on our twitter. Come back daily for more Malawi business news.
Quick Links: Download Business eBooks | Ten Signs You Are An Entrepreneur | What is a Managing Director?
Latest posts by Vanessa Banda
(see all)