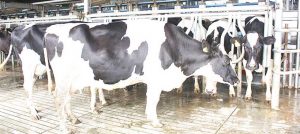 Dairy farmers still making losses—study
Daily farmers continue to make losses despite calls to improve milk prices, a study by the Civil Society Agriculture Network (Cisanet) has revealed.
Cisanet National Director, Pamela Kuwali, told stakeholders in Lilongwe recently that key findings of gross margin analyses conducted suggested that dairy farmers were making losses largely due to high operational costs and low milk prices.
The stakeholders included dairy farmers, processors and extension workers.
"There is a general perception by milk producers in Malawi that suggests that they get low farm gate prices for their raw milk. As a result, the farmers are of the view that they realise low returns from their dairy enterprises. Hence, raw milk pricing has been a thorny issue and a tug of war in the dairy value chain in Malawi – while processors claim to be paying decent prices for the raw milk, producers, on the other hand, claim to be getting a raw deal," Kuwali said.
Kuwali said it is against this background that Cisanet commissioned the study to do an in-depth analysis of the market systems and structural bottlenecks affecting raw milk marketing in Malawi.
"It is our hope that the findings from the study have generated evidence for milk price-setting negotiations. It is our belief that this study provides us with the necessary basis for initiating a healthy dialogue among all players in the value chain in a bid to ensure a more fair distribution of risks and benefits between milk producers and processors," Kuwali said.
Deputy Director of Livestock Development in the Ministry of Agriculture, Irrigation and Water Development, Patricia Mayuni, advised farmers to always seek services of extension workers so that they are able to acquire right cow species that can give them better returns.
The study was aimed at analysing channels, structure and conduct of the raw milk market in Malawi by analysing, among other things, the degree of market performance in terms of gross margins and marketing margins.
It was also aimed at providing structural and policy recommendations to improve competitiveness in the dairy sector.
(Visited 7 times, 7 visits today)
Latest posts by Vanessa Banda
(see all)