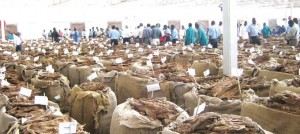 Day 1 tobacco sales rake in US$300,249
The country's green gold, tobacco, earned a total of $300,249 on the first day of the marketing season in Lilongwe on Tuesday as hopes remained high for better prices following reports of reduced supply and strong demand.
This year's first day earnings are 53 percent better than the $199,953 realised on the first day of the season last year.
AHL Group Communications Manager, Mark Ndipita, said on Wednesday that the market also recorded significant improvements in the volumes of tobacco sold.
On Tuesday, the market traded a total of 257,425 kilogrammes as compared to 199,368 kilogrammes sold on the first day last season.
On average, a kilogramme of tobacco attracted $1.17 on Tuesday as compared to $0.98 recorded on the first day of trading last year.
"So far, if we compare first day's trading for this year and last year, we can say this year's market has started on a good note looking at volumes, proceeds, average price and rejection rate," Ndipita said.
Opening the market at the Lilongwe Auction Floors on Tuesday, President Peter Mutharika warned tobacco buyers against collusion.
Mutharika said tobacco farmers need to get better prices for their leaf. He expressed hope that the 2017 tobacco marketing season would be smooth and of great benefit to the tobacco growers and Malawians in general.
"My expectations are that you will be running both the contract and auction marketing systems side by side on a daily basis. My understanding is that tobacco farmers have already chosen which system they will be patronising this marketing season," he said.
Tobacco is Malawi's biggest export crop and the country's top foreign exchange earner. But, in recent years, tobacco has been losing its salt with revenue from the crop continuing to go down largely driven by the global anti-smoking lobby.
(Visited 1 times, 1 visits today)
Latest posts by Vanessa Banda
(see all)