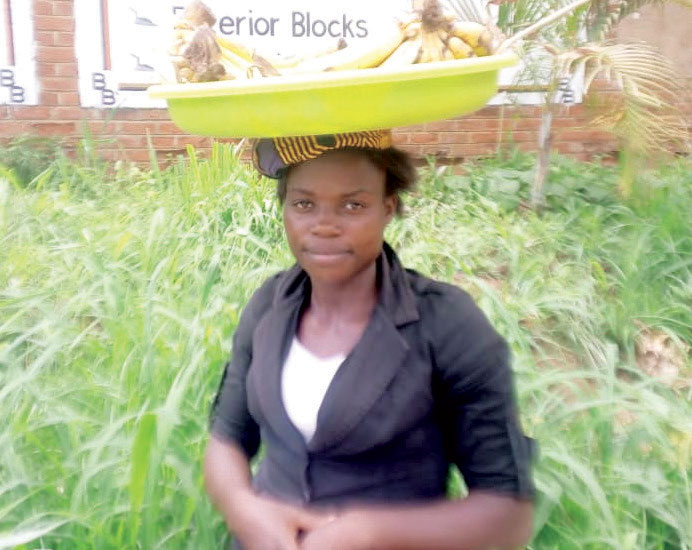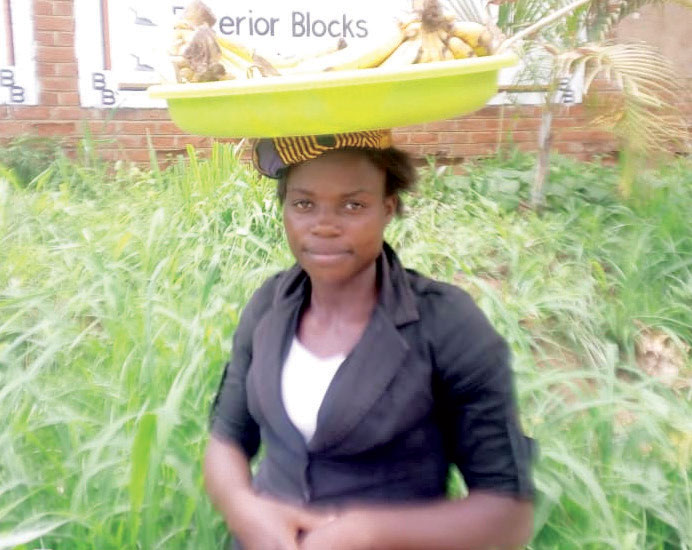 'Deploying failures to own businesses'
Mike Mlombwa
Violet Majiga is a cross-border business person trading in merchandise between Malawi and Tanzania.
After staying idle at her uncle's place in Lilongwe's Kawale Township, Violet, in 2017, decided she needed to do something to keep her busy.
"I sat my Malawi School Certificate of Education examinations in 2012 but did not pass. I opted not to repeat because that meant going back to form three as the results came out while the form fours had already made advanced preparations for the examinations.
"Years passed without doing anything and then I opted to venture into business just to keep myself busy," Majiga said.
Just like Majiga, 18-year-old Maria John decided to venture into business simply to survive.
John, a resident of Chigwirizano Township in Lilongwe, sells bananas on the streets of the administrative capital.
"I dropped out of school in standard seven because of financial challenges at home. I now have to fend for my brother and my child," John said.
The cases of Majiga and John are just a tip of an iceberg of what drives many Malawians into business.
Talking to many entrepreneurs doing business across the country, one gets an almost similar pattern of responses.
Among the responses include, "I didn't go further with my education so I wanted something to survive on; I wanted something to keep me busy; I lost my job and needed something to do to survive;. When I retired I thought of starting a business to keep going".
The importance of businesses to the growth of the economy cannot be overemphasised.
The robust the businesses in an economy, the stronger the economy becomes and the weaker entrepreneurs are in the country, the poorer the economy is.
In an interview with Zodiak, South Africa-based business mogul Simbi Phiri said Malawi's poor show in business is because the country has deployed its best brains elsewhere and has left business to failures.
Phiri says the genesis of the problem lies country's education system which has rewarded the brightest students with jobs in either government, non-governmental organisations or the private sector and not entrepreneurship.
"I think our education was about getting educated to get a job. But not all of us can be employees. We have to produce entrepreneurs. We have deployed the best brains in government. No one who has gone to University of Malawi wants to start a business.
"Now we have deployed the failures of our education system are the ones we say must go into business," Phiri said.
Citing an example of Indians, Phiri says the Indians have deployed educated children to run their businesses.
"Now you are putting your failures, those who have failed in school and you want them to do businesses, who do you think will win here? How will the Malawians compete?
"So that's why the Indians have taken over the business sector because that's why the economy is in the hands of Indians on the basis that has not deployed its best brains in business," Phiri said.
Indigenous Businesses Association of Malawi (Ibam) President Mike Mlombwa agrees with Phiri that in the past, the country has not encouraged its best brains to venture into business.
Mlombwa said this was largely because there were very few role models in business to inspire the youth that business is the way to go.
According to Mlombwa, the problem starts way back in primary school where pupils are encouraged to choose exciting carriers such as doctors, pilots, lawyers, nurses and teachers when the question, what do you want to be when you grow up is asked.
"At that tender age, nobody becoming a businessman is not even an option.
"Again, the way our society is structured makes being an employee fashionable and socially acceptable. For example, when a girl has found a boy to get married to, the obvious question becomes amagwira ntchito kuti and not what does he do? In the end most youths aspire to get a job," Mlombwa said.
According to Mlombwa, Ibam has been going to various schools and colleges to encourage students to pursue entrepreneurship.
Deputy Minister of Labour, Vera Kamtukule, said her ministry is working on some initiative with the Ministry of Trade to improve the situation.
Ministry of Industry spokesperson, Yamikani Kadzakumanja, agreed that there has been less academically qualified pursuing entrepreneurship.
"This is because of several reasons, such as, a person who is unemployed or whose chances of getting employment are low due to low academic qualifications or other reasons is more motivated to start business than the one who is already employed or academically qualified.
"Furthermore, traditionally as a country we have been training people to get employed not to start businesses though in recent years there has been a change in the approach and we have seen a number of academic institutions introducing entrepreneurship programmes and entrepreneurship as a subject in business related programmes," Kadzakumanja said.
He said the Ministry of Industry is working with the Technical Education, Entrepreneurship and Vocational Training Authority to promote entrepreneurship in technical colleges and soon we will be conducting sensitisation meetings in technical colleges which are aimed at promoting entrepreneurship and providing guidance on where entrepreneurs can get business support.
Speaking on the sidelines of Mwimba College Graduation, Agriculture Minister Lobin Lowe observed that it is worrying that just a handful of people who have studied agriculture are willing to go into farming as a business.
According to Lowe, most of them are happy to secure jobs in banks, government and other entities.
In its June 2021, Malawi Country Private Sector Diagnostics Report the World Bank says Malawi's private sector is mostly informal, with only a few large firms capturing economic opportunities in most sectors.
According to the World Bank, there are an estimated 1.1 million micro, small, and medium enterprises in Malawi of which roughly 90 percent are unregistered and operate informally, mostly in what could be considered subsistence level wholesale and retail trade or various agriculture-related services.
In the final analysis, for Malawi to register accelerated economic growth, the country needs strong businesses at all levels of the value chain.
But for that to happen, it is high time the country started committing its best human resources into entrepreneurship to stir the businesses to growth and contribute the much-needed taxes to the economy.
Leaving the engine for economic growth in the hands of 'failures' won't take Malawi anywhere.
Let us know what you think of this article and remember to add us on our facebook and follow us on our twitter. Come back daily for more Malawi business news.
Quick Links: Download Business eBooks | Ten Signs You Are An Entrepreneur | What is a Managing Director?
Latest posts by Vanessa Banda
(see all)