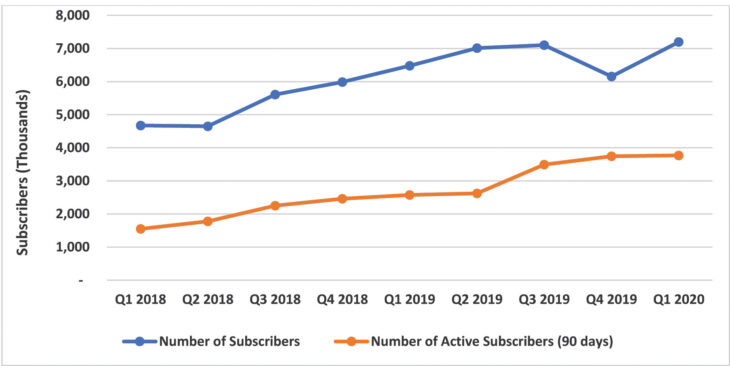 Malawi digital payments squeezed in first quarter
Reduced economic activity in the first three months of 2020 led to low performance of the national payment system with a recorded slowdown in most of the payment channels.
Despite recording a marginal 0.4 percent increase in processed transactions to 91.5 million in large value and retail payment streams, total value of the transactions decreased by 12.9 percent to K10, 076.0 billion compared to fourth quarter of 2019.
According to Reserve Bank of Malawi (RBM) first quarter National Payment System report issued last week, the volume and value of the Malawi Interbank Transfers and Settlement System transaction also declined by 7.3 percent and 15.4 percent to 1.5 million and K8,635.7 billion, respectively.
The report shows that volume and value of large value transactions decreased by 8.5 percent and 16.6 percent to 51,005 and K7,485.6 billion while EFTs decreased by 7.7 percent and 11.2 percent to 1.2 million and K502.5 billion.
The central bank fears that the low performance may spill over to the remaining part of the year due to possible effects of Covid-19.
"Although on seasonal trends this is expected to reverse during the second quarter of 2020 as it is the beginning of agricultural produce trading season, the economic impact of Covid-19 pandemic currently being experienced is expected to have a reducing effect on the level of transactions in all payment streams," reads part of the report.
There was, however, an improvement in overall performance of retail Digital Financial Services (DFS) transactions which include payments processed through channels such as internet banking, Point of Sale (POS), mobile payment solutions and ATMs (excluding ATM cash withdrawals).
According to RBM, the volume and value of transactions in these payment streams registered a marginal increase of 0.5 percent and 5.9 percent to 90.0 million and K1, 440.3 billion, respectively.
The position is higher when compared with the corresponding period of 2019.
"This suggests that stakeholder efforts to drive increased adoption and usage of electronic payments in the country are bearing results as the transaction numbers keep showing a yearly upward trend," says RBM.
During the period under review, total number of registered customers for non-bank mobile money services increased by 16.9 percent to 7.2 million.
However, subscriber activity (the number of subscribers who used the service at least once during a 90-day period) declined to 52.4 percent.
The number of mobile banking subscribers rose by 7.9 percent to 904,737 which also saw the volume and value of mobile banking transactions rising by 18.5 percent and 32.7 percent to 8.4 million and K125.1 billion, respectively.
Let us know what you think of this update and remember to add us on our facebook and follow us on our twitter. Make sure to come back daily for more Malawi business news updates.
Quick Links: Malawi Radio Station Frequencies | Where To Eat In Malawi | Download Business eBooks | Ten Signs You Are An Entrepreneur | What is a Managing Director?
Today's top business story: Top Commercial Banks In Malawi
Source Link
Latest posts by Vanessa Banda
(see all)