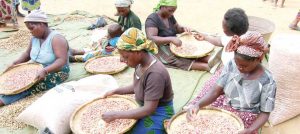 Diversification drive dealt another blow
Malawi's hopes of increasing its groundnuts exports have just been dealt another blow following revelations that the use of the Mandela Cork technology could be increasing the levels of aflatoxins.
The Mandela Cork is a technology used to dry groundnuts for easy storage and later exportation.
But a research done by the Chitedze Research Station has, however, shown that the technology increases aflatoxins in groundnuts and in the process threatening the demand of Malawi groundnuts in foreign markets.
Aflatoxins are toxic metabolites produced by fungi in foods and feeds. They cause cancer in the human body.
African Institute of Corporate Citizenship (AICC) Chief Executive Officer, Felix Lombe, has said that this is worrisome to Malawi as it will increase the rejection levels of Malawi's groundnuts on the international market.
"Malawi has already been facing challenges on the international market on groundnuts because of the levels of aflatoxins. This is another big blow to the sector because it means more groundnuts will be rejected on the market" Lombe said.
He emphasized the need for research institutions to quickly come up with solutions on how the aflatoxin problem can be tackled to enhance groundnuts exports.
"The government and development partners must come forth to fund research institutions that can come up with solutions to this problem" Lombe said.
Groundnuts is one of the crops the government identified in the National Export Strategy (NES) which aims at encouraging exports and local value addition to boost economic growth.
Recent statistics from the Agricultural Commodity Exchange for Africa (ACE) show that the crop is fetching as high as K800 per kilogramme on the market.
Malawi used to export up to 40, 000 metric tonnes of groundnuts each year, including to European markets. However, volumes have been going down following the introduction of very strict food testing procedures in Europe and the US against levels of aflatoxin.
(Visited 18 times, 18 visits today)
Latest posts by Vanessa Banda
(see all)