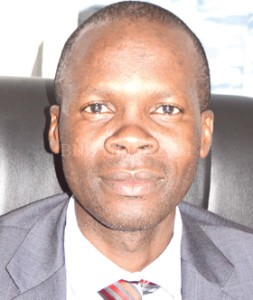 The Reserve Bank of Malawi Says Domestic Debt Has Risen to K426bn
The Reserve Bank of Malawi (RBM) in its latest Financial and Economic Review has reported that total domestic borrowing, including money loaned to central government and parastatals, swelled to K426.9 billion in the second quarter of 2014.
This is K86.9 billion more than the K340 billion projection made by the Minister of Finance Goodall Gondwe when he presented the national budget in September.
"Domestic debt increased by 9.2 percent and closed the second quarter of this year at K426.9 billion (18.6 percent of GDP) from K390.9 billion in the preceding quarter. The upsurge was attributed to Treasury bills stock and outstanding Ways and Means advances," said the RBM in the report.
Annually, the central bank said, domestic debt rose by 44.5 percent from K295.4 billion recorded in a corresponding quarter of last year.
When contacted for comment, the Ministry of Finance Spokesperson Nations Msowoya said he was in a meeting and would comment at a later stage.
But in an earlier interview, Msowoya said the Treasury continues to receive pressure from the private sector to settle arrears following a directive from government to ration payments due to resource constraints.
The report shows that the banking systems' net claims on the central government stood at K242.2 billion by the end of the second quarter of this year from K190.7 billion recorded in the preceding quarter.
The increase was observed in both the monetary authorities and commercial banks' accounts.
"Net credit to government from the monetary authorities rose by K44.5 billion to K152.1 billion largely on account of issuance of a K29.0 billion promissory notes and uptake of K14.5 billion Ways and Means advances," RBM said.
During the period under review, the Treasury was the biggest borrower from the banks accounting for K7.3 billion from the banks while the private sector borrowed K5.3 billion and K1.4 billion went to state-owned enterprises, according to RBM.
The distribution of the government's domestic debt from the monetary authorities by government shows that proportion of Treasury bills debt stock increased to 44.8 percent from 42.8 percent reported in the first quarter of the year, whereas Ways and Means advances rose to 25 percent of the total domestic debt stock from 23.6 percent in the preceding quarter.
Experts earlier warned that government would resort to borrowing as it tries to implement a budget without support from Malawi's development partners. They said this would lead to more fiscal stress.
Source link
Latest posts by Vanessa Banda
(see all)