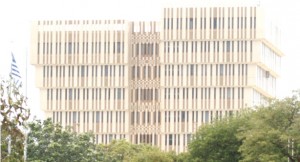 Domestic debt softens 1.9% in second quarter
Malawi's domestic debt softened by 1.9 percent between April and June 2015 despite continued borrowing by authorities using Treasury Bills, the Reserve Bank of Malawi has said.
In its second quarter economic report for 2015 released on Friday, RBM said government domestic debt stock went down to K425.31 billion by end June from K433.77 billion at the end of March.
The central bank attributed the drop to a decline in outstanding ways and means advances by 63.5 percent from K58.40 billion in the first quarter of 2015 to K21.34 billion in the quarter under review.
RBM said during the second quarter, Treasury Bills increased to K282.07 billion from K253.47 billion in the first quarter.
According to the report, the proportion of Treasury Bills in the domestic debt stock rose to 66.3 percent from 58.4 percent recorded in the first quarter, while ways and means advances decreased to 5.0 percent of the domestic debt stock from 13.5 percent in the first quarter.
It said domestic debt continued to be skewed towards short maturities, as such exerting roll-over pressure on the government and that most of the domestic debt was held by commercial banks at 35.28 percent, followed by the Reserve Bank at 26.96 percent.
Insurance companies held 19.9 percent of the domestic debt while pension funds held 6.0 percent, according to the report.
On the external debt, RBM says at the close of the second quarter of 2015, external debt totaled US$1.8 billion, a rise from US$1.7 billion in first quarter of 2015.
Debt from multilateral creditors accounted for 76.6 percent of the total external debt in the quarter under review, up from 75.3 percent in the preceding quarter, according to RBM.
(Visited 15 times, 15 visits today)
Latest posts by Vanessa Banda
(see all)