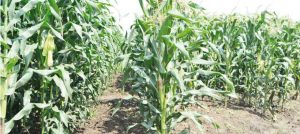 Donors optimistic on agriculture reforms
The European Union and the United States Government have said the reforms currently taking place in the agriculture sector are likely to revitalise the sector.
EU Ambassador, Marchel Gerrmann, and US Ambassador, Virginia Palmer, said this on the sidelines of the official opening of the 14th National Agriculture Fair in Blantyre on Wednesday.
The two said the involvement of the private sector is key to boosting the agriculture sector.
Gerrmann said there is need to have efficient markets to improve the sector.
"It is very important that the government is improving the enabling environment in the agriculture sector because that is needed. The private sector is needed to invest in the country's agriculture sector, becuase without the private sector it is not going to work.
"It is also important that the government creates clarity around the markets, thus the Control of Goods Act. We really hope that the Bill for the Goods Act, which basically regulates the goods market, will be sent to Parliament in November this year," he said.
Gerrmann further said the government is making progress on the Seed and Fertiliser Policy and feels there are resources available to grow the agriculture sector in Malawi with the right policies in place.
"I don't see why the agriculture sector is going to fail to grow with such policies. The government has made some very important reforms to the Farm Input Subsidy Programme and what we would like to see is that those reforms should continue," he said.
Palmer said Malawi has made new commitments under the New Alliance for Food and Nutrition Security that will bring private and donor sector investment into the agriculture sector.
She said the policies that need to be fast-tracked include the review and revision of Control of Goods Act and the Seeds and Fertiliser Policy.
"The export restrictions are not predictable. People don't understand why or when the restrictions are being put on. They need to be made more transparent and predictable,then people will be able to make investments in the agriculture sector. This is very important to stimulate commercial and smallholder investment.
"Malawians are also using old variety of seeds and a research is being done to produce improved seeds," she said.
Minister of Agriculture, Joseph Mwanamvekha, said his ministry has made some strides in formulating, developing and reviewing some of its strategic documents with a view to create an enabling business environment for investment.
"We are yet to finalise the Seed Policy and the Seed Bill, the Fertiliser Policy Bill, the Livestock Development Strategy and also the Tobacco Industry Bill.
"The principal aim of undertaking all this is to improve service delivery and spur development in the sector," Mwanamvekha said.
(Visited 23 times, 23 visits today)
Latest posts by Vanessa Banda
(see all)