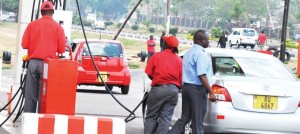 Double digit inflation scare | The Times Group
By William Kumwembe:
Malawi's headline inflation inched up by 0.2 percentage points in October to hit 9.7 percent, gradually crawling back to a double digit band.
Malawi's headline inflation has continued on an upward spiral in the past four months after it took a u-turn in July as escalating food and nonfood prices began to bite.
In October, food and non-food inflation rate stood at 10.4 percent and 9.2 percent, respectively, figures from the National Statistical Office (NSO) indicate.
In September, the price of fuel went up by an average of five percent and this forced service providers, including transporters, to reciprocate by pushing up their prices.
In October, the Electricity Supply Corporation of Malawi effected a 20 percent power tariff increase as part of a 31.8 percent four-year tariff hike approval by the Malawi Energy Regulatory Authority (Mera).
Prices of maize, Malawi's staple grain have remained elevated in recent months due to a food shortage emanating from poor harvest last year.
In an interview, Dean of Social Sciences at the Catholic University, Gilbert Kachamba, said the inflation outlook remains murky.
"We are expecting that the price of food would continue rising, so inflation will continue to rise and sooner or later we will hit the double digit again," Kachamba said.
The International Monetary Fund (IMF) recently projected a solid downward trajectory of inflation beyond 2018, converging at 5 percent in the long term.
Responding to an emailed questionnaire, IMF Malawi Resident Representative, Jack Ree, said, overall, inflation has behaved significantly better than what was expected before 2018.
"There is no silver bullet in inflation fight. We just need to be persistent and vigilant. We also need to have a credible framework of monetary policy," Ree said.
Reserve Bank of Malawi spokesperson, Mbane Ngwira, said the Central Bank expects average inflation to be in the range of 9.3 percent to 9.6 percent.
"Inflation outcome is in line with our projections. The current rise in inflation is temporary, mainly due to recent increases in pump fuel prices and electricity and water tariffs. It must also be noted that food inflation on month to month basis has lost steam and slowed down. Early next year, we should see inflation starting to decline again," Ngwira said.
Latest posts by Vanessa Banda
(see all)