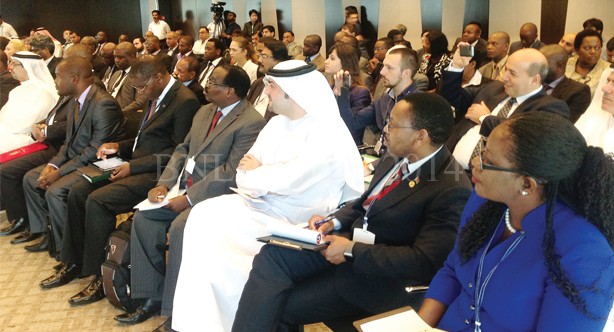 Dubai investors keen on Malawi
The Dubai Chamber o f Commerce and Industry says there is high potential for Malawi to secure investment and trade deals in Dubai especially in the area of food production and supply.
Dubai Chamber of Commerce and Industry senior vice president for commercial services Atiq Juma Faraj Nasib said Dubai is in need of food supply and Malawi has the potential to supply that.
"Malawi will also get various expertise from companies that will invest in your country," said Nasib.
He said Dubai also stands to benefit through a diversified source of food and agriculture supplies and increased trade.
On his part, Malawi Investment Trade Centre (MITC) chief executive officer, Clement Kumbemba, said there are a number of investors in Dubai who have shown interest to come and explore investment opportunities in Malawi.
"There are a number of investors who have shown interest to come to Malawi. This is something positive and as MITC we are happy with the news," said Kumbemba.
He said the investors are in the sectors of agriculture, tourism, construction, value addition and processing.
Kumbemba also said Malawi being an agro-based economy; stands to get more business from Dubai which imports 90 percent of its food stuff.
"As a country we expect to benefit from this market," said Kumbemba.
He said the government has put in place policies that will see investors getting better services than before.
"Previously investors would get frustrated because our processes were taking time. But now with the One Stop centre we are able to process documents within a short time and this gives the investors' confidence hence we should see an influx of investors into the country," said Kumbemba.
He said most of Malawi's neighbouring countries are able to export to the UAE market and Malawi cannot be left out.
"Our friends in Tanzania, Mozambique and Zambia are able to export here, why not us. Dubai has a potential export market at the same time we also have opportunities to offer for investment," he said.
Minister of Infor mation, Tourism and Culture Kondwani Nankhumwa – who is the leading the Malawi delegation on the mission, said government expects the trade mission to open up doors for investment.
He said there are a number of areas that the government needs support from the private sector.
"There are projects in tourism, agriculture, power generation that we need support in. So far there are investors who are interested to venture into energy production, agriculture and fresh foods and as government we will make sure that we offer these investors all the necessities so that they are able to carry their businesses in Malawi,' said Nankhumwa.
Latest posts by Vanessa Banda
(see all)