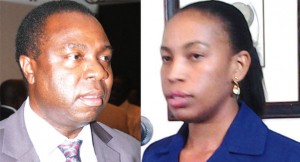 Ecama suggests way out of inflation crisis
Reducing recurrent expenditure and increasing food supply are some of the measures that the government can adopt to tame Malawi's runaway inflation, the Economics Association of Malawi (Ecama) has said.
Ecama says government needs to immediately implement such deliberate policies before the situation gets out of hand.
In one of the presentations made during a public discussion forum the body held in Blantyre recently, Ecama's executive member Esnart Lweya said government should tally its recurrent expenditure with domestic revenues to avoid budget mismatch.
"We have also looked at the fiscal policy that supports monetary policy. We are suggesting a sound fiscal policy where we are looking at ensuring that our recurrent expenditures are within the domestic revenues, this is to reduce the budget deficit that is there," she said.
She further hinted on the need for Treasury to adopt a sound fiscal policy by focusing on expenditures targeted towards boosting private sector activities.
The Ecama paper also suggests improved agricultural activities in the country by among other things ensuring increased food production.
"There is need to modernise the agriculture sector. We need to increase efficiency and number of harvests in a year," suggested Lweya.
Speaking during the same event, Press Corporation's Group Chief Executive Officer Mathews Chikaonda called on the Reserve Bank of Malawi (RBM) to consider measures of addressing exchange rate and base rate concerns as a mechanism to tackle the inflation upsurge.
"The issue is how to make things happen, and that will be attained by addressing policy inconsistency in the economy. We need to address the issue of base lending rates and exchange rates such that they are favourable for the market," he said.
When contacted, manager responsible for Research and Policy Analysis at RBM Kisu Simwaka said the effects of the rates on inflation are relatively lower than speculated.
"When a market is misbehaving, we cannot just stand by and watch as a monetary authority. We have to bring in some discipline. Somehow, we still have to bring in some measures," he said.
Malawi's inflation remains comparatively the highest in the region after another record 1.8 percentage points upsurge to 21.3 percent in the month of June.
Figures from the National Statistics Office (NSO) indicate that the year on year headline inflation rate for June went up from 19.5 percent recorded in May 2015.
(Visited 24 times, 24 visits today)
Latest posts by Vanessa Banda
(see all)