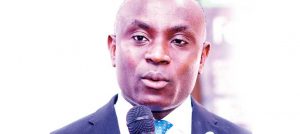 Ecobank in guest tellering initiative
Ecobank top executives yesterday took time off their busy schedules to serve customers as bank tellers.
Ecobank Malawi Managing Director, Charles Asiedu, said the initiative helps the bank to appreciate the challenges customers face.
Asiedu said hearing from the customers helps the bank to improve its customer service delivery to the benefit of customers.
"This is an annual event which we do as a bank. At Ecobank, we believe that the customer is the king. As such, we need to interact with them to understand how they perceive our service delivery," Asiedu said.
He said the feedback the bank has got from customers has helped the institution to improve its service offering and grow the business.
Asiedu also said it was surprising to note that some customers still come to the banking halls to do transactions, which could be easily done on ATMs or the bank's mobile application.
"What we want is to serve customers with speed. So, I was advising some customers to try our mobile application, which could help them access all their banking needs without necessarily coming physically to the bank," he said.
One of the customers, Deborah Mijoso, said it was an honour to be served by the bank's top executives.
"It shows that Ecobank management values me as a customer," she said.
(Visited 37 times, 37 visits today)
Latest posts by Vanessa Banda
(see all)