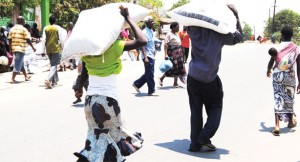 Economic forum to discuss subsidies
Monarchy Consultants will Friday hold a forum to debate the impact of subsidy programmes on economic growth. This will be the second forum for the firm to organise after it successful hosted an indaba on the role of the financial sector as a catalyst of economic development in Malawi.
Monarchy lead economist Flera Kulemero said international economist Stephen Carr, a strong advocate of the Fertiliser Input Subsidy Programme (Fisp), will be among the panel.
He said the objective of the debate is to discuss and analyse subsidies in a very non-political environment and debating the advantages and disadvantages of the programmes.
"We would like to offer the country an objective view of the relevance of subsidies in general in Malawi. There has been too much debate against subsidies, especially Fisp, and yet this continues to be financed heavily.
"There could be advantages of this, possibly outweighing the disadvantages or visa-versa. Stephen Carr will lead discussion on the advantages. He is better placed being non-partisan himself, but well experienced in the field of agriculture," said Kulemero.
He further said Malawi needs a roadmap on sustainability and acceptability of Fisp, and all subsidies that are acceptable to all.
"The bottom line is we want to promote spirit of debate in open manner in Malawians," he said.
There have been several calls from civil society organisations and some donor communities for the country to phase out Fisp.
UN Special Rapporteur on the right to food, Olivier De Schutter, during his visit to Malawi last year asked the government to reassess its agricultural priorities and to increase support towards some under-funded programmes.
De Schutter said Fisp drains a lot of funds that could be used to develop other programmes.
"Fisp has been quite vital since it was introduced in 2005-06 fiscal year, but like other programmes, it has many defects. And I propose a number of ways in which Fisp has to be improved. Other programmes could be better financed if Fisp is gradually reduced," he said.
The Fisp budget is estimated at more than K60 billion every year.
Latest posts by Vanessa Banda
(see all)